Ground Breaking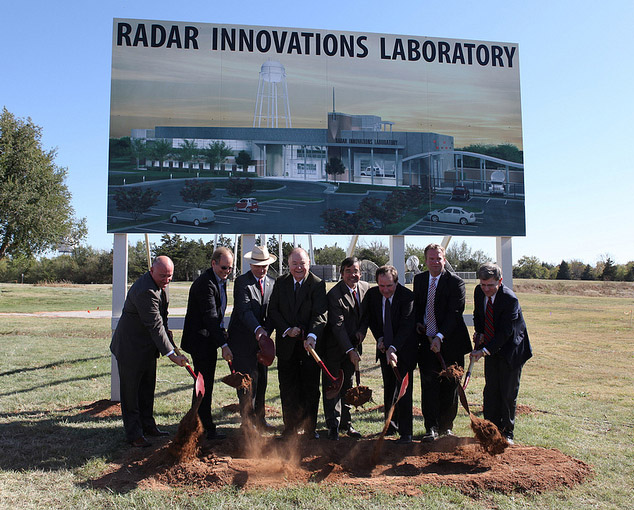 Groundbreaking ceremonies for the new Radar Innovations Laboratory (RIL) took place on October 30 with several local, state and national dignitaries in attendance. The 35,000 square foot state-of-the-art facility, dedicated to advancing OU's radar program, will include a large microwave lab, high-bay garage, prototype fabrication facilities, machine shop, two precision anechoic chambers, experimental observation deck, and a unique "Ideas Room" to foster collaboration and innovation. Located just east of the National Weather Center, the RIL is expected to be completed by the end of 2013.
Instruments
The RIL has equipment to support research, prototyping and testing of radar and RF devices through 50 GHz.
Major Test Equipment:
Agilent PNA and PNA-X Network Analyzers (up to 50 GHz for two ports, 26.5 GHz for 16-port analysis) with an electronic calibration module
Agilent PSA and EXA Spectrum Analyzers with Phase Noise and Noise Figure Personalities (up to 50 GHz)
Tektronix Real-Time Spectrum Analyzer with 110 MHz of instantaneous bandwidth (up to 14 GHz)
Agilent PSG Analog Signal Generator (up to 50 GHz)
Agilent PSG Vector Signal Generator (up to 31.8 GHz)
Agilent Peak Power Meter (50 GHz)
Agilent Oscilloscope (8 GHz)
Anritsu Portable Spectrum Analyzer (13 GHz)
Agilent Arbitrary Waveform Generator (125 MHz)
Agilent Multi-channel data logger
Agilent LCR meter (2 MHz)
Fabrication Equipment:
LPKF Milling Machine
Electroless-and electro-plating setup
Multilayer lamination capabilities
Extensive soldering and rework equipment
Polymer chemical vapor deposition
3D solid freeform fabrication
Photolithography patterning
Along with these instruments, the lab has a compliment of lower frequency analog waveform generators, spectrum analyzers, function generators and DC power supplies.