News Archive
News articles in the past
Dr. Mark Yeary Receives Patent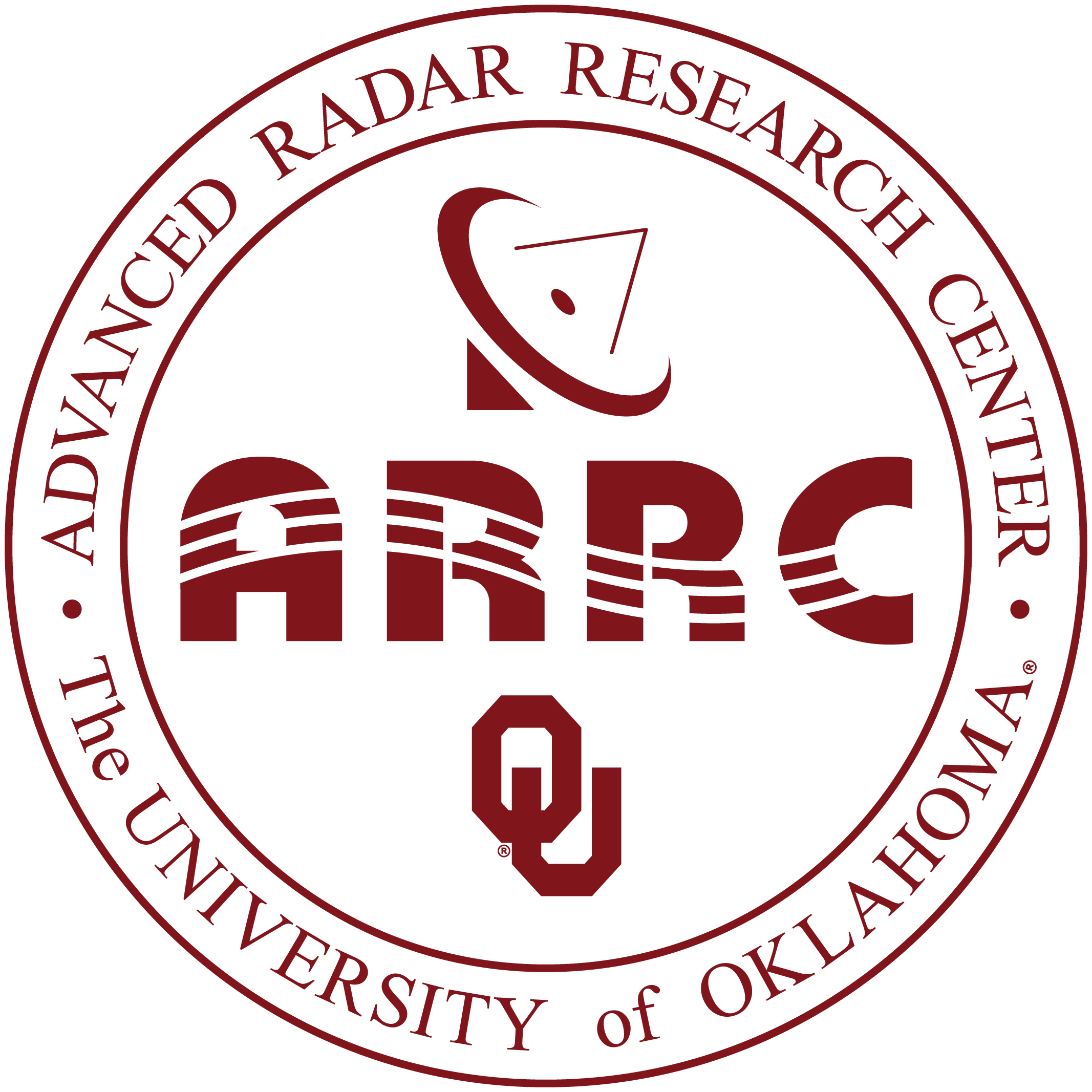 ARRC/ECE faculty member Dr. Mark Yeary and Raytheon's Jim Toplicar, Paul Doucette and Elizabeth Foltz were recently issued a patent on Raytheon's Single Channel Semi-Active Radar Seeker. "The disclosed approach provides a low-cost approach by employing a single channel receiver for a direction-finding missile, rather than a conventional four-channel system". It employs interferometry techniques and also leverages orthogonal waveforms and pseudorandom noise codes.
Posted on Wednesday Dec 12, 2012 08:24 am CST
Groundbreaking Takes Place on New Radar Innovations Laboratory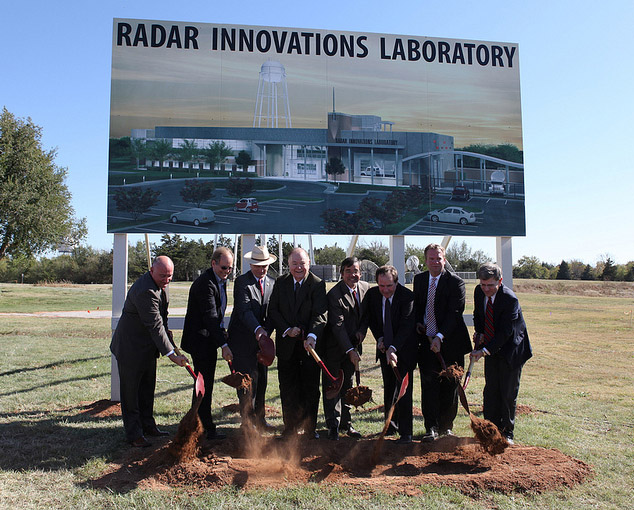 Groundbreaking ceremonies for the new Radar Innovations Laboratory (RIL) took place on October 30 with several local, state and national dignitaries in attendance. The 35,000 square foot state-of-the-art facility, dedicated to advancing OU's radar program, will include a large microwave lab, high-bay garage, prototype fabrication facilities, machine shop, two precision anechoic chambers, experimental observation deck, and a unique "Ideas Room" to foster collaboration and innovation. Located just east of the National Weather Center, the RIL is expected to be completed by the end of 2013.
Posted on Friday Nov 02, 2012 09:52 am CDT
ARRC Radar Engineer Speaks to Belle Isle Students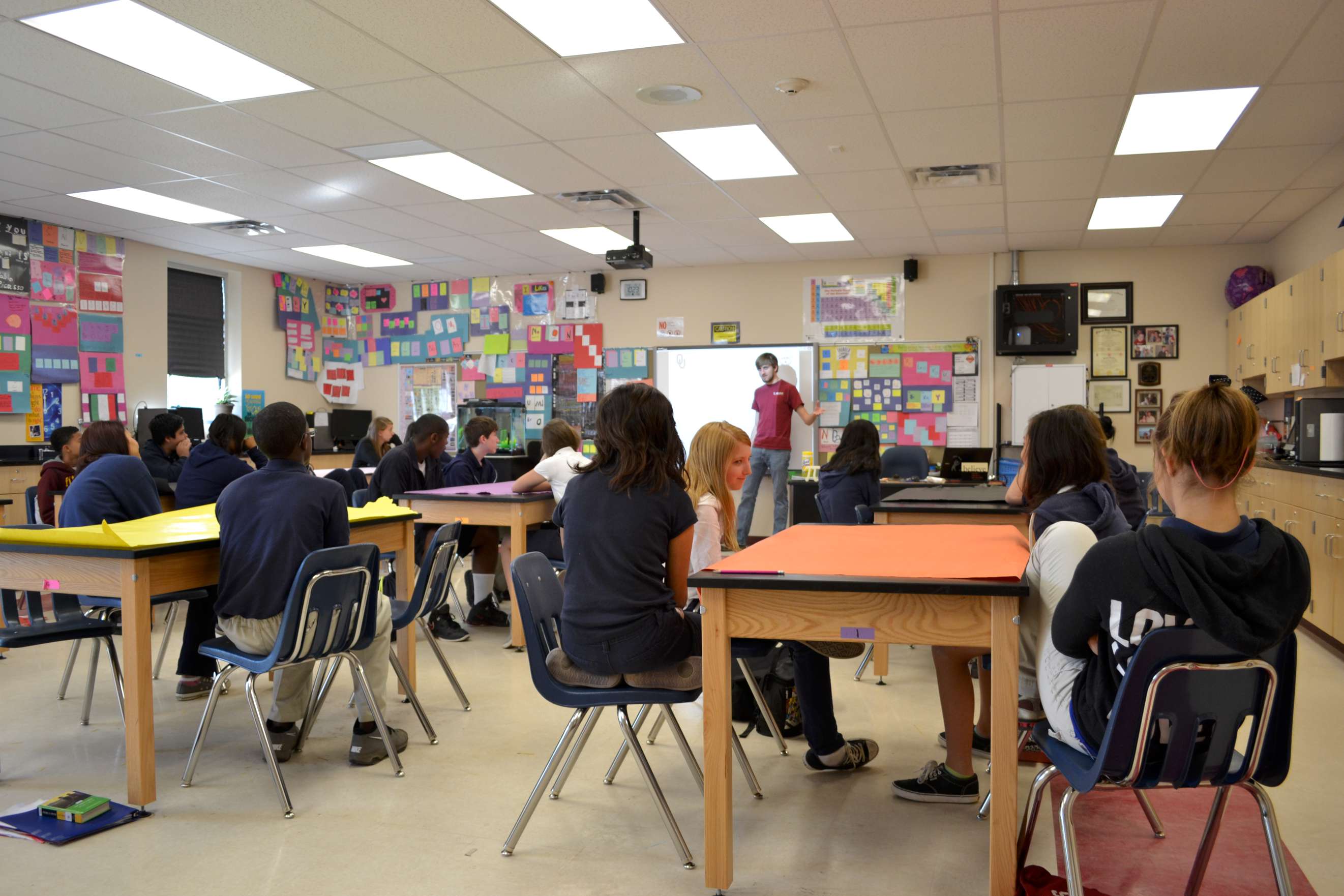 John Meier, ARRC Radar Engineer, was recently invited to speak about engineering to several groups of 8th grade students at the Belle Isle Middle School in OKC. In addition to explaining what he does personally as an engineer, John had the opportunity to inform students about the engineering opportunities at OU and the ARRC, and to show them the Atmospheric Imaging Radar (AIR). Also, to give the students an idea of what engineering is like, John had them build the tallest tower they could out of spaghetti and marshmallows. Everyone enjoyed the experience with several expressing a strong interest in pursuing a career in engineering.
Posted on Wednesday Oct 17, 2012 10:39 am CDT
Radar Retreat Held
The ARRC recently organized the fourth Strategic Radar Retreat to help forge a path forward for OU's radar program.  The two-day event was held Sept 27-28 and included vigorous discussion about the current state of the program, trends in technology, educational goals, and possible synergy among the Norman community. Over the next several months, a detailed strategic plan will be developed.  Congratulations to all the organizers and participants!
Posted on Wednesday Oct 03, 2012 01:28 pm CDT
Dr. Yang Hong's Book Accepted as OU Textbook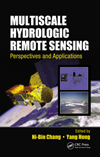 ARRC and CEES faculty member Dr. Yang Hong's new book, "Multiscale Hydrologic Remote Sensing: Perspectives and Applications", has been accepted as a textbook for OU's graduate course Remote Sensing Hydrology. This book integrates advances in hydrologic science and innovative remote sensing technologies. Raising the visibility of interdisciplinary research on water resources, it explores hydrologic remote sensing at the local, urban, watershed and regional scales, as well as the continental and global scale.
Posted on Wednesday Oct 03, 2012 11:32 am CDT
NASA and NOAA Use Hydrology and Landslide Models for US Project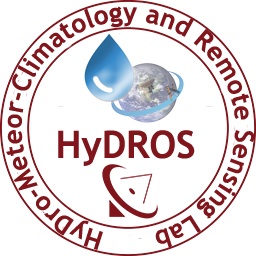 ARRC faculty member Dr. Yang Hong's HyDROS group (hydro.ou.edu) have been transferring their high-resolution Coupled Routing and Excess STorage (CREST) hydrological model and the rainfall-triggered Landslide model to NASA's SERVIR-Africa Mission and NOAA's Flash Flood Headquarter Office for a Continental US-wide National-Flood-Landslide (NFL) project.
Posted on Wednesday Oct 03, 2012 11:30 am CDT
New Equipment in the RIL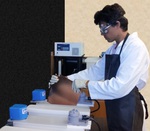 Recent upgrades to the Radar Innovations Laboratory include $1M of precision microwave measurement equipment from Agilent Technologies and Tektronix, and a plating station for via holes in printed circuit boards.
Posted on Saturday Sep 15, 2012 02:21 pm CDT
Jessica Erlingis receives NSF Graduate Research Fellowship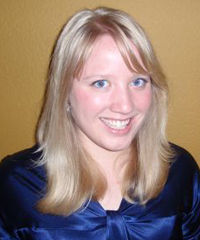 Congratulations to ARRC and SoM graduate student Jessica Erlingis on receiving a 2012 National Science Foundation Graduate Research Fellowship. Jessica's research interests include simulation and prediction of hydrometeorological extremes, such as heavy precipitation events and flash flooding. The NSF Fellowship provides a $12,000 cost of education allowance in addition to a $30,000 annual stipend for 3 years, with a total up to $156,000. Jessica, a student of Dr. Yang Hong (CEES/ARRC) and Dr. Jonathan Gourley (NOAA/NSSL), brings the total number of NSF graduate fellowship recipients currently in the ARRC to three.
Posted on Wednesday Sep 12, 2012 09:05 am CDT
The New ARRC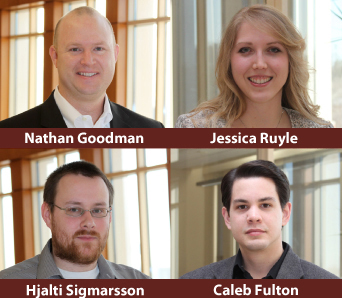 The Atmospheric Radar Research Center (ARRC) has recently changed its name to the Advanced Radar Research Center (ARRC) with the impetus of expanding its research portfolio to include applications of radar in addition to weather (e.g., DoD areas). An important part of this expansion is the inclusion of four new ARRC faculty members, Dr. Nathan Goodman, Dr. Jessica Ruyle, Dr. Hjalti Sigmarsson, and Dr. Caleb Fulton, all of who are also affiliated with the School of Electrical and Computer Engineering at OU.
Posted on Friday Aug 10, 2012 03:33 pm CDT
Announcing the Distinguished Radar Lecture Series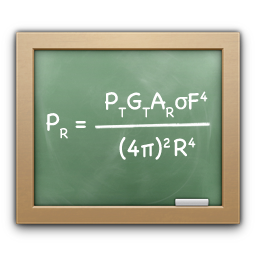 The Distinguished Radar Lecture Series (DRLS), a new and collaborative effort between the Office of the Vice President for Research, the College of Engineering, and the College of Atmospheric & Geographic Sciences, brings high-profile speakers in the area of radar research to OU so that they can reflect on their body of work, discuss current technological and scientific challenges, and share their future visions. These speakers will be invited from a variety of disciplines and organizations related to both defense and weather applications.
Posted on Friday Aug 03, 2012 10:14 am CDT