News Archive
News articles in the past
Dr. Yang Hong is elected to Executive Committee of AGU Natural Hazard Focus Group (NHFG)

NHFG is the only group fosters a focus within AGU on studies of geophysical hazards, including droughts, earthquakes, fires, floods, heat waves, landslides, space weather, storms, tsunamis, volcano eruptions, impact by near-Earth objects, and related events. The Group promotes fundamental research into the links between extreme natural hazards and dynamic processes on Earth and in space; real-time and long-term monitoring of active Earth processes; quantitative natural-hazard modeling; studying predictability of natural extreme events, their operational forecasting, and reducing predictive uncertainties; and implementation of effective strategies and designs for hazard mitigation and disaster management worldwide. The American Geophysical Union (AGU) is an international non-profit scientific association of Earth and Space Scientists with more than 62,000 members worldwide.
Posted on Tuesday Jan 06, 2015 09:55 am CST
AMS Announces 2015 Award Winners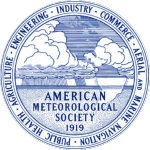 Recently, the American Meteorological Society announced its 2015 Award Winners, Fellow and Honorary Members. The Advanced Radar Research Center is proud to boast that faculty member and Executive Director, Dr. Bob Palmer is among the recipients to receive the fellowship award.Fellows are those persons that have made outstanding contributions to the atmospheric or related oceanic or hydrologic sciences or their applications during a substantial period of years. Fellows represent the top 0.2 % of the membership of the society.
Posted on Tuesday Jan 06, 2015 09:55 am CST
OU professors and Scientists received NASA Robert H. Goddard Award.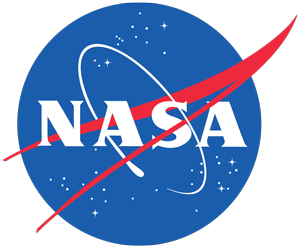 As part of the Global Precipitation Measurement Ground Validation Team, Drs. Pierre Kirstetter, Jonathan Gourley, and Yang Hong received the NASA Goddard Space Flight Center Robert H. Goddard Award , for the category of Exceptional Achievement in Science.  These distinguished awards are given annually at NASA GSFC after an extensive nomination and review process. The award will be presented on March 17, 2015 at Goddard Space Flight Center. Dr. Yang Hong previously received NASA Headquarter Group Achievement Award in 2008.
Posted on Tuesday Jan 06, 2015 09:54 am CST
ARRC Wedding!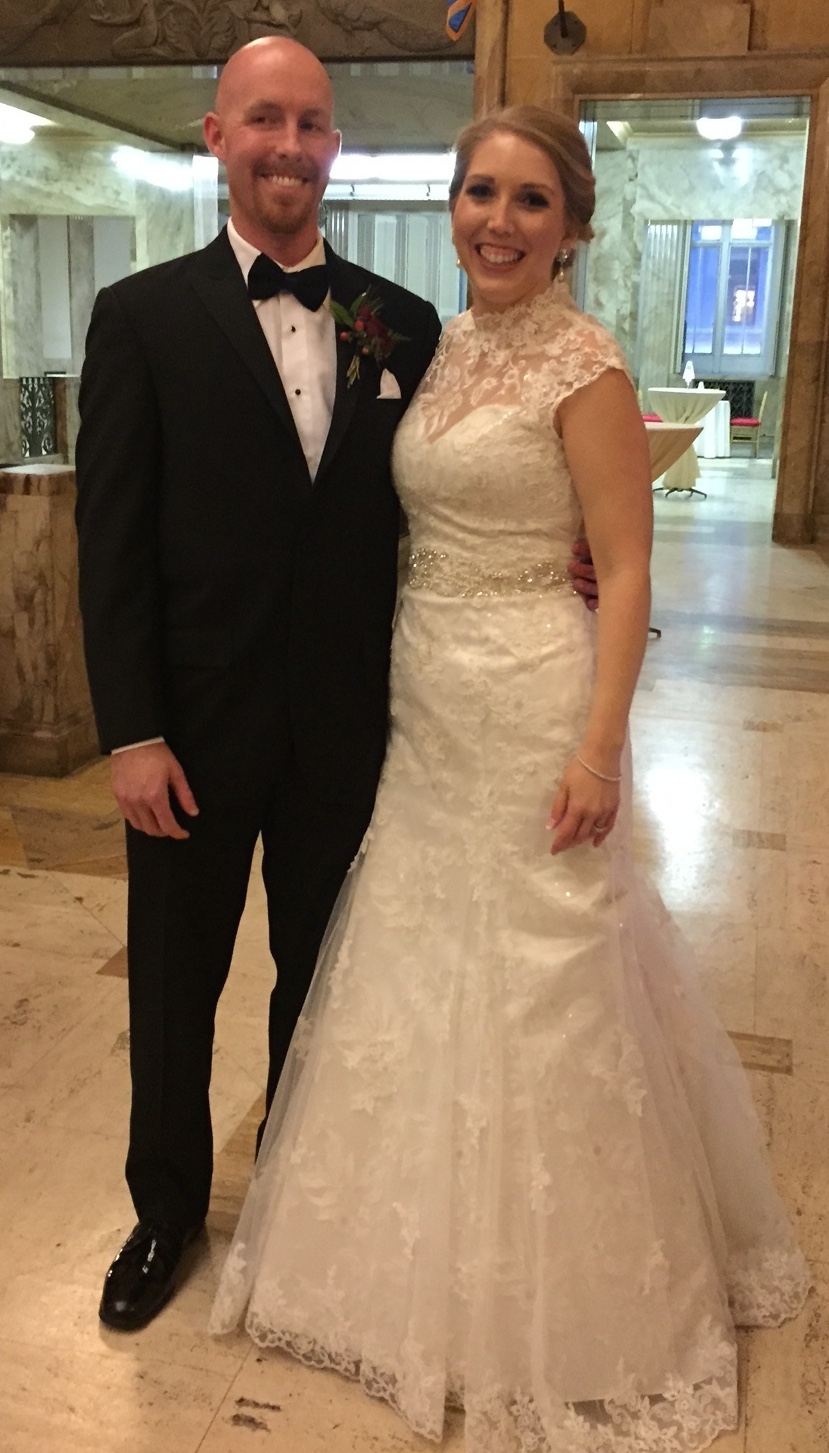 ARRC Faculty member, Dr. Jessica Ruyle, wed Joseph Howard last Saturday, January 3, 2015 at St. Mark the Evangelist Catholic Church in Norman, OK. Congratulations to the newlyweds!
Posted on Monday Jan 05, 2015 11:48 am CST
Engineering Degree Will Get You There
Jessica Ruyle, assistant professor in ECE, tells you why engineering at OU is so exciting. In addition to the "massively cool stuff" she gets to do on a daily basis, she further explains the benefits of studying engineering at OU. Solve problems. Provide solutions. An engineering degree will get you there.
Posted on Tuesday Dec 23, 2014 01:59 pm CST
New Book - Radar Hydrology: Principles, Models, and Applications
Published on December 23, 2014 by CRC Press, Radar Hydrology: Principles, Models, and Applications provides graduate students, operational forecasters, and researchers with a theoretical framework and practical knowledge of radar precipitation estimation. The only text on the market solely devoted to radar hydrology, this comprehensive reference:
Begins with a brief introduction to radar
Focuses on the processing of radar data to arrive at accurate estimates of rainfall
Addresses advanced radar sensing principles and applications
Covers radar technologies for observing each component of the hydrologic cycle
Examines state-of-the-art hydrologic models and their inputs, parameters, state variables, calibration procedures, and outputs
Discusses contemporary approaches in data assimilation
Concludes with methods, case studies, and prediction system design
Includes downloadable MATLAB® content
Flooding is the #1 weather-related natural disaster worldwide. Radar Hydrology: Principles, Models, and Applications aids in understanding the physical systems and detection tools, as well as designing prediction systems.
Editorial Reviews "This is the first book on radar hydrology written by hydrologists. Whereas the excellent knowledge of radar technology by the authors permits an adequate coverage of the principles of rainfall rate estimation by radar, their hydrological background allows them to provide a unique message on the benefits (and on the remaining challenges) in exploiting radar techniques in hydrology... In a clear and concise manner, the book combines topics from different scientific disciplines into a unified approach aiming to guide the reader through the requirements, strengths, and pitfalls of the application of radar technology in hydrology—mostly for flood prediction. Chapters include excellent discussion of theory, data analysis, and applications, along with several cross references for further review and useful conclusions."
Posted on Wednesday Dec 17, 2014 11:59 am CST
DARPA 2014 Young Investigator Award
The Defense Advanced Research Projects Agency (DARPA) has chosen Dr. Jessica Ruyle as the 2014 Young Investigator Award recipient. Dr. Ruyle is an ARRC and ECE Faculty member and is the first in ARRC and ECE to be awarded this prestigious award.
Posted on Friday Dec 05, 2014 05:12 pm CST
WNI Celebrates 10 years at the University of Oklahoma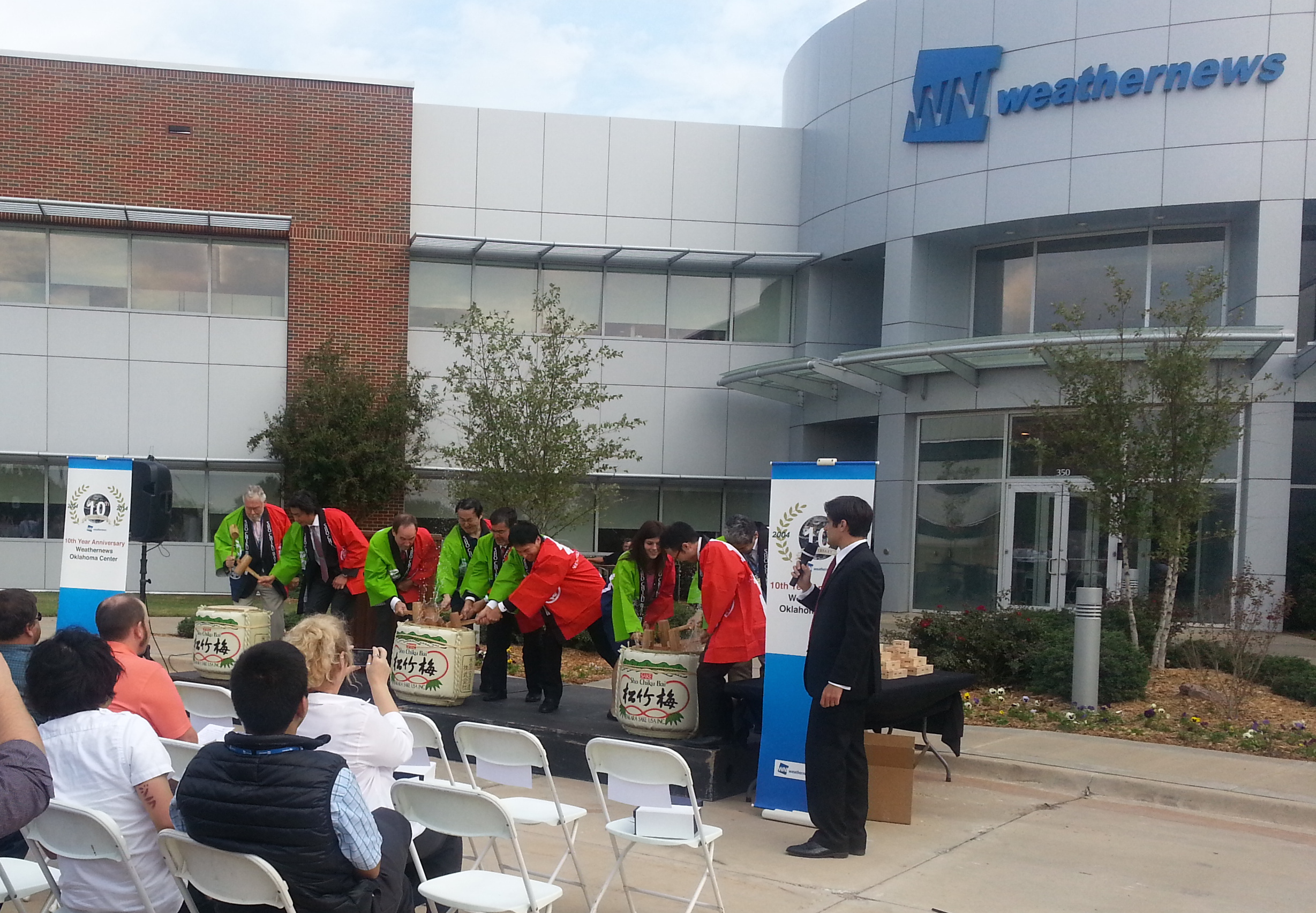 Weather News International (WNI) celebrated ten (10) years of being on the University of Oklahoma South Campus. To celebrate this Anniversary WNI conducted the traditional Japanese Sake Barrel Ceremony, "Kagami-Biraki", where several barrels of sake were broken open by wooden mallets.
Posted on Wednesday Oct 29, 2014 04:04 pm CDT
Radar Innovations Lab Grand Opening!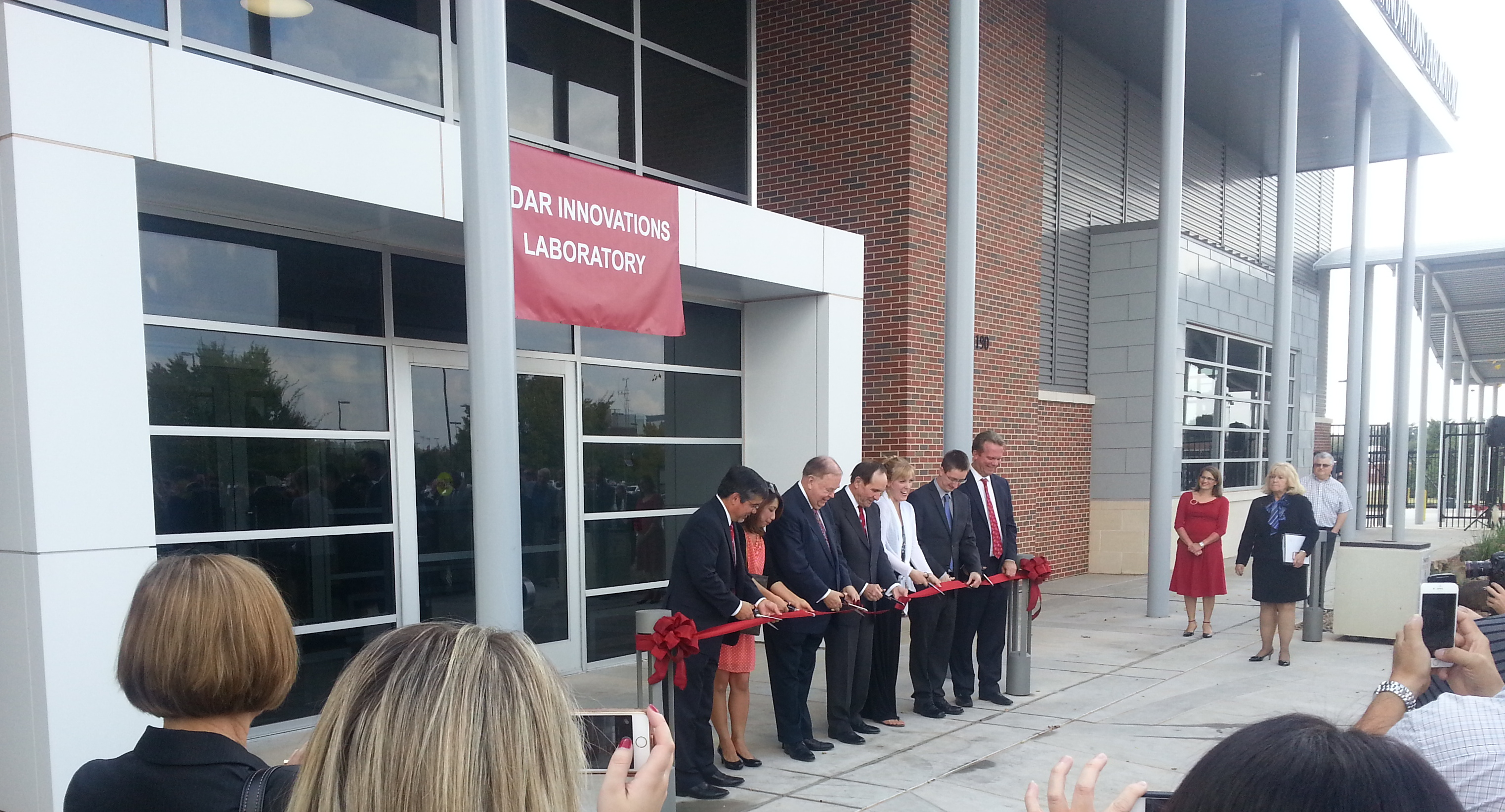 The University of Oklahoma Advanced Radar Research Center's Radar Innovations Lab (RIL) held the Opening Dedication Ceremony last week, Oct 22, 2014 @1:30pm. Dr. Robert Palmer, Mrs. Palmer, University President David L. Boren, Dean Berrien Moore, Dr. David Bodine and others cut the ribbon at the entrance of the building to symbolize the opening of this building to the public.
Posted on Wednesday Oct 29, 2014 03:56 pm CDT
The PX-1000 at the Lobo Overlook in the Rio Grande for a Colorado Field Campaign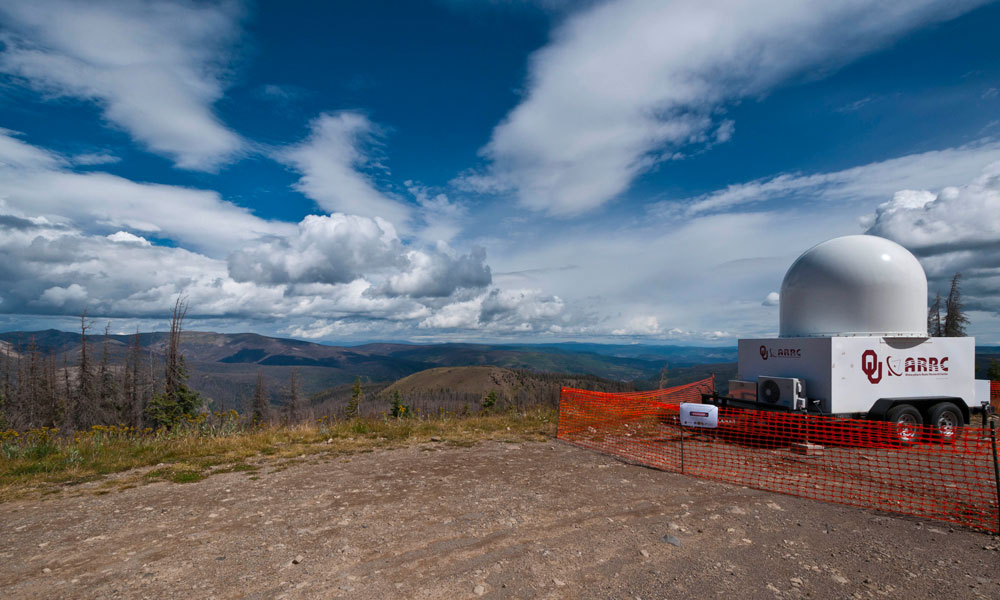 ARRC research scientist Dr. Pierre Kirstetter, along with Drs. Boon Leng Cheong and Tian-You Yu, deployed the PX-1000 for a field experiment to monitor weather and hydrology over areas affected by wildfire and debris flows in the Rio Grande area, Colorado. The radar has been operated from the Lobo overlook to monitor precipitation and complement the NEXRAD coverage in complex terrain. Further, a number of developmental radar-based (MRMS) products have been supplied to the experimental team for research and evaluation. The operations have been coordinated with the Rio Grande Watershed Emergency Action Coordination Team (RWEACT), the Colorado Water Conservation Board, the National Weather Service offices of Pueblo and Grand Junction and the NOAA National Severe Storms Laboratory. The experiment was conducted from September 1 to October 15, 2014.
Posted on Saturday Oct 11, 2014 12:41 pm CDT