News Archive
News articles in the past
NEW BOOK – Radar Polarimetry for Weather Observations by Alexander Ryzhkov and Dusan Zrnic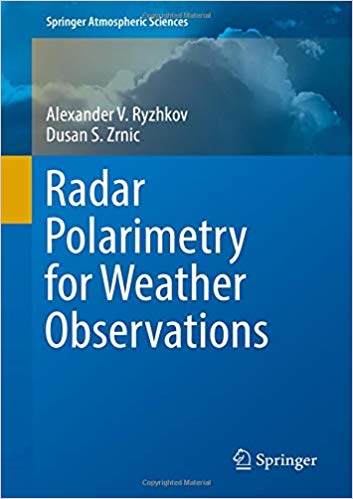 Dr. Alexander Ryzhkov, ARRC faculty member and CIMMS Senior Research Scientist, and Dr. Dusan Zrnic, Senior Scientist and leader of the Doppler Radar and Remote Sensing Research at NSSL, have co-authored a book titled "Radar Polarimetry for Weather Observations" Published by Springer International Publishing, this monograph offers a wide array of contemporary information on weather radar polarimetry and its applications. The book tightly connects the microphysical processes responsible for the development and evolution of the clouds' bulk physical properties to the polarimetric variables, and contains the procedures on how to simulate realistic polarimetric variables. With up-to-date polarimetric methodologies and applications, the book will appeal to practicing radar meteorologists, hydrologists, microphysicists, and modelers who are interested in the bulk properties of hydrometeors and quantification of these with the goals to improve precipitation measurements, understanding of precipitation processes, or model forecasts.
 The book can be purchased through this link.
Posted on Friday Aug 23, 2019 02:28 pm CDT
Who Uses NASA Earth Science Data? Dr. Pierre Kirstetter Does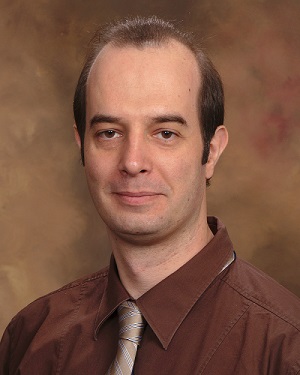 Who uses NASA Earth science data? OU/ARRC professor Dr. Pierre Kirstetter does  to build tools that improve our understanding of precipitation and flooding. Click here to read about his work.
Posted on Thursday Jul 25, 2019 02:15 pm CDT
KOCO 5 News Interview with Dr. Jorge Salazar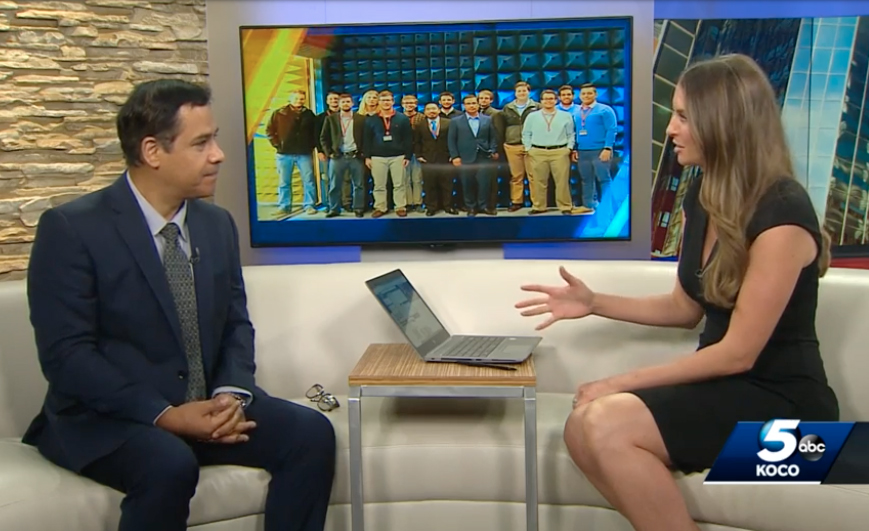 Dr. Jorge Salazar, leader of the ARRC team collaborating with Metawave Corporation on the development of radar for autonomous vehicles, was interviewed recently by KOCO 5 News team anchor Markie Martin. Click here to see the complete interview.
Posted on Monday Jul 15, 2019 02:57 pm CDT
Alexander Pham Receives Honorable Mention at IEEE Conference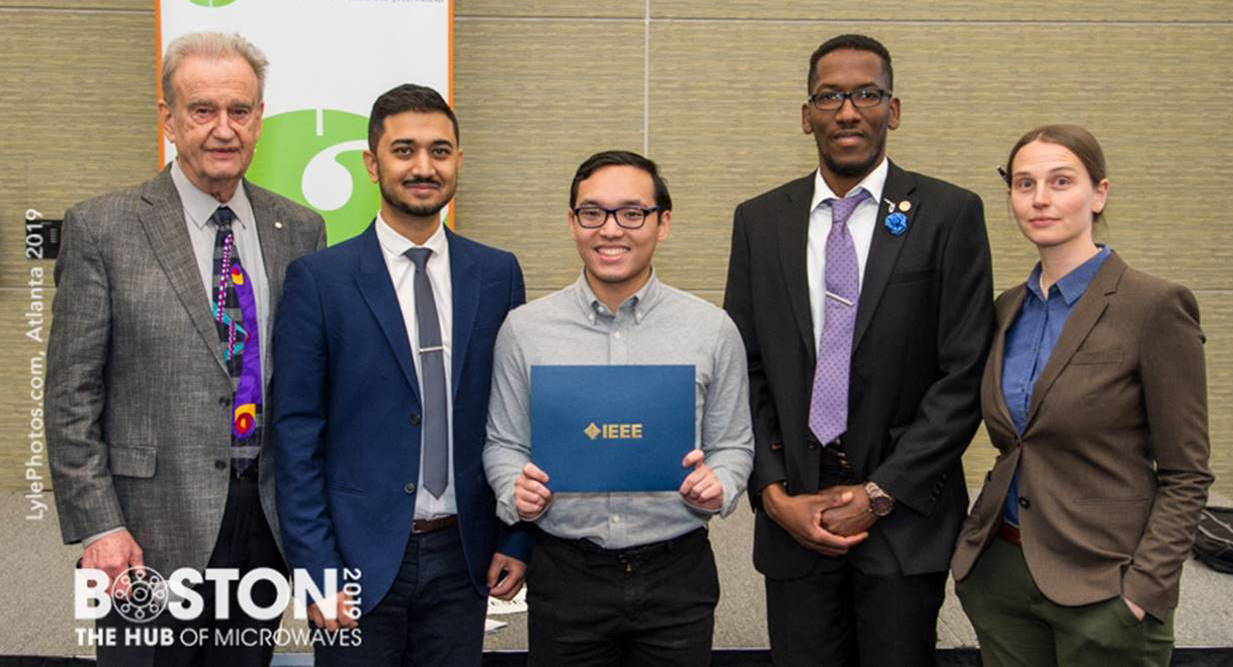 Congratulations to Alexander Pham, ECE/ARRC undergraduate student, for receiving an honorable mention in the Three Minute Thesis (3MT) competition at the 2019 IEEE International Microwave Symposium held recently in Boston. His presentation was titled "Future Adaptable Communication and Radar Components" (photo by LylePhotos.com, Atlanta, 2019)
Posted on Thursday Jun 13, 2019 09:59 am CDT
Dr. David Bodine Interviewed for News Story About May 3, 1999 Tornado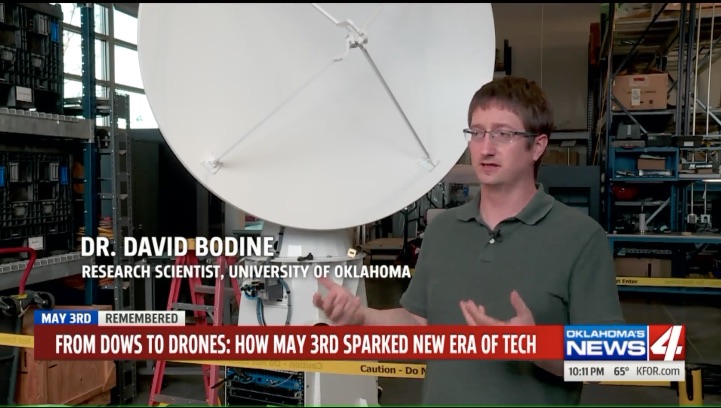 ARRC Research Scientist Dr. David Bodine was interviewed by KFOR meteorologist Emily Sutton for her news story "How Tornado Technology Has Changed Since the May 3, 1999 Tornado". Click here to see the entire story.
Posted on Monday May 06, 2019 02:40 pm CDT
Casey Griffin Wins School of Meteorology Award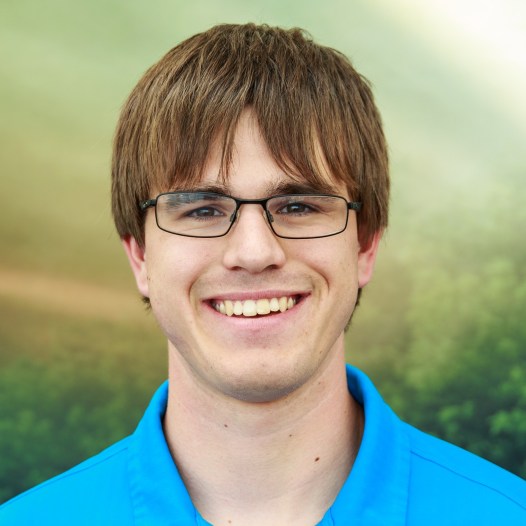 Congratulations to Casey Griffin for receiving the Outstanding Graduate Teaching Assistant Award in the School of Meteorology.
Posted on Monday May 06, 2019 01:48 pm CDT
Dr. Mark Yeary Receives Vice President for Research Award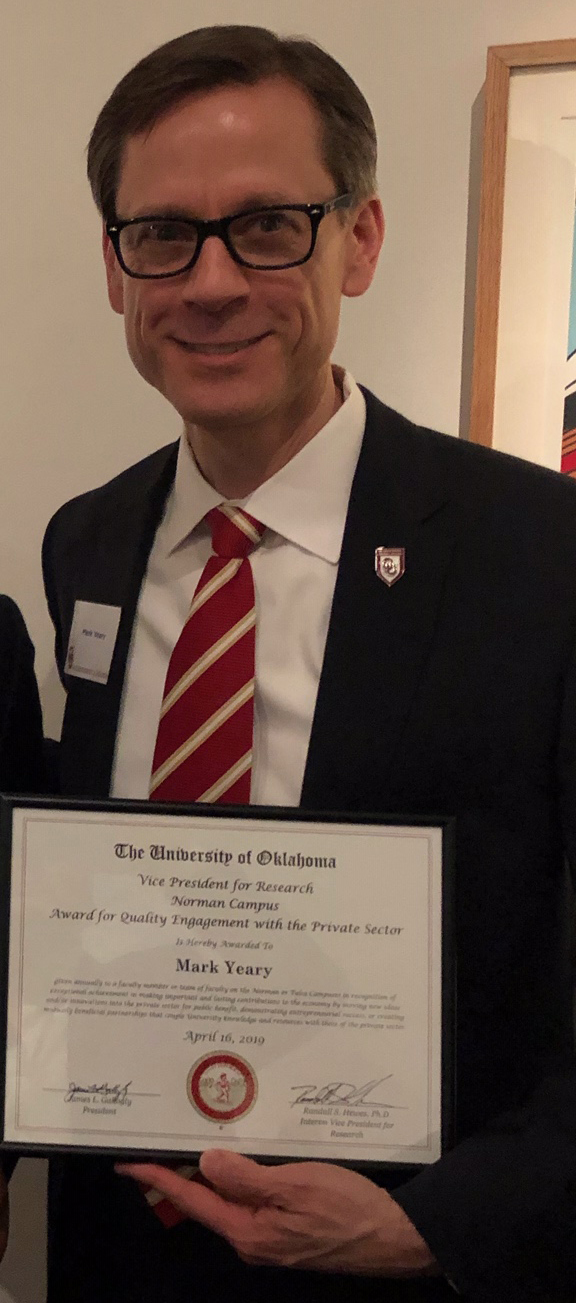 ECE/ARRC professor Dr. Mark Yeary received the Vice President for Research Award for Scholarly Engagement with the Private Sector during the recently held tribute ceremony honoring faculty of the OU Norman campus. The award is given annually in recognition of exceptional achievement in making important and lasting contributions to the economy by moving new ideas and innovations into the private sector for public benefit, demonstrating entrepreneurial success, or creating mutually beneficial partnerships that couple University knowledge and resources with those of the private sector. Congratulations Mark!
Posted on Thursday May 02, 2019 03:58 pm CDT
Dr. Jorge Salazar Receives William H. Barkow Presidential Professorship
Dr. Jorge L. Salazar Cerreno, ARRC/ECE professor, has been awarded a William H. Barkow Presidential Professorship. OU's Presidential Professorships were established to recognize those faculty members who excel in all their professional activities and who relate those activities to the students they teach, inspire, and mentor. They exemplify to their students and colleagues the ideals of a scholar through their endeavors in teaching, research and creative scholarly activity, professional and university service, and public outreach. Congratulations Jorge!
Posted on Thursday May 02, 2019 03:35 pm CDT
Russell Kenney Places Second in IEEE Region 5 Student Paper Competition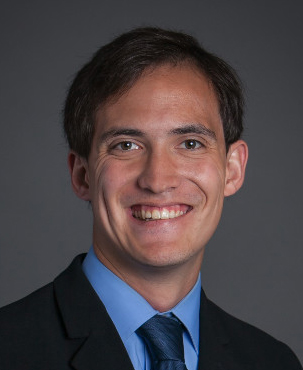 Having qualified for the IEEE Region 5 Student Paper Competition by placing first in both the local and area competitions, ECE/ARRC undergraduate researcher Russell Kenney took second place in the Region 5 competition held recently in Lafayette, LA. The top three finalists from each of the four area competitions were judged on the quality of their paper and a 15-minute oral presentation. The IEEE Region 5 includes schools from South Dakota, Nebraska, Wyoming, Colorado, Kansas, Missouri, Oklahoma, Arkansas, Illinois, Louisiana, New Mexico and Texas. Russell's paper, "Clock Incoherence in All-Digital Radar Back Ends", earned him a $500 award, a certificate, and consideration for publication in a future issue of the IEEE Potentials Magazine. In addition, an inscribed plaque will be sent to the OU School of Electrical and Computer Engineering for display. Russell is a research assistant under Dr. Jay McDaniel. Congratulations, Russell, on this phenomenal accomplishment!
Posted on Wednesday Apr 17, 2019 04:08 pm CDT
Eivy Arroyo-Diaz Receives First Place for Conference Paper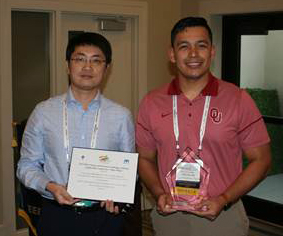 ECE/ARRC graduate student Eivy Arroyo-Diaz received first place in the student paper competition at the 2019 IEEE Wireless and Microwave Technology conference held recently in Cocoa Beach, Florida. His paper, "Frequency-Agile Coplanar-Waveguide-Fed Miniaturized Helical Resonator Filters", earned him a certificate, trophy and a $100 Amazon gift card. Pictured with Eivy is Dr. Kenle Chen, Chair of the conference paper competition. Eivy is advised by Drs. Hjalti Sigmarsson and Shahrokh Saeedi. Congratulations!
Posted on Wednesday Apr 17, 2019 03:16 pm CDT