News Archive
News articles in the past
Congresswoman Stephanie Bice tours the Radar Innovations Lab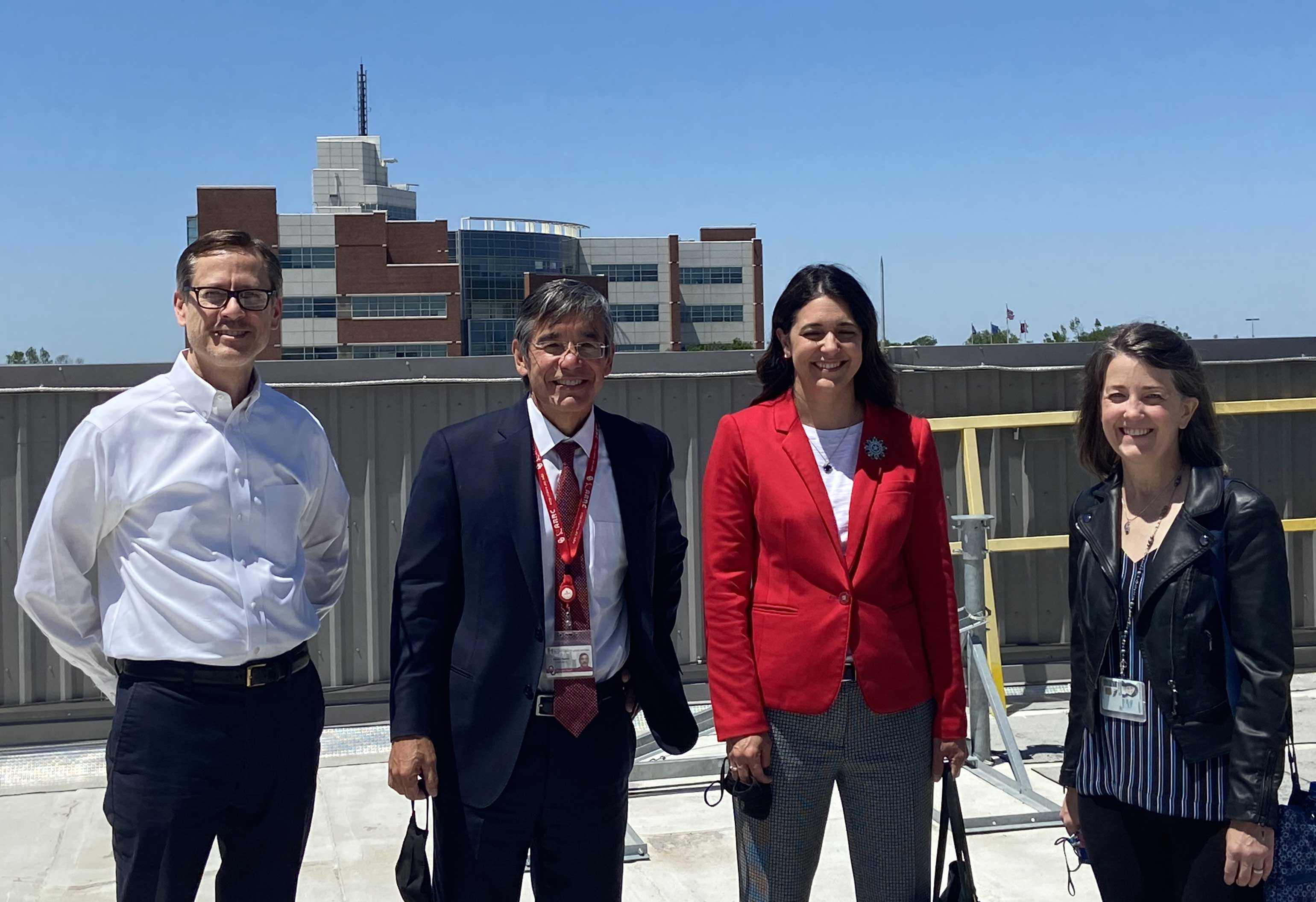 Congresswoman Stephanie Bice visited the OU campus on Friday, April 30, 2021. During her visit, she toured the National Weather Center, School of Meteorology and the Radar Innovations Laboratory.
Congresswoman Bice sits on the Space Science and Technology Committee and the House Armed Services Committee, which interact with this important arm of research at the University of Oklahoma.
Posted on Monday May 03, 2021 03:00 pm CDT
Prof. Jessica Ruyle awarded William H. Barkow Presidential Professorship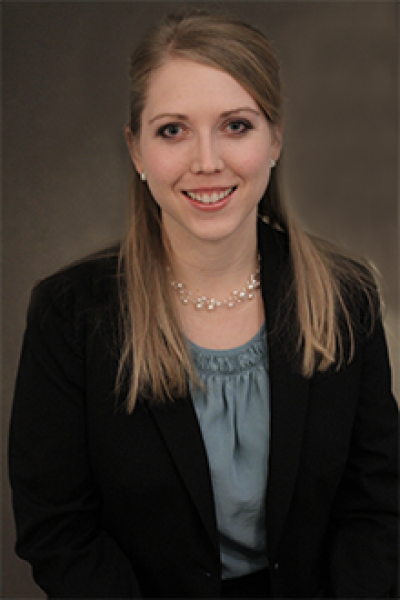 Congratulations to ARRC faculty member Prof. Jessica Ruyle for this prestigious professorship.Jessica E. Ruyle is an Associate Professor of Electrical and Computer Engineering and a member of the Advanced Radar Research Center. She has two patents for her antenna design work and is the recipient of a Defense Advanced Research Projects Agency (DARPA) Young Faculty Award for her work in highly conformal, placement insensitive antennas.
Ruyle supports nearly all of her graduate students with fully funded graduate research assistantships. She has been the principal investigator or co-principal investigator on grants totaling over $16 million; her portion of those awards is over $3.7 million. The DARPA Young Faculty Award provided about $500,000 in funds that were almost exclusively used to support graduate and undergraduate research. In addition, Ruyle has placed students in internships and full-time positions at multiple prominent places, including the AT&T Advanced Antennas Department, Air Force Research Lab, National Instruments, Naval Research Laboratory, Raytheon, Sandia National Laboratories, and NASA.
Ruyle's service activities reflect a personal commitment to broaden participation in electrical and computer engineering – in the field of applied electromagnetics, in particular. She has been an adviser of undergraduate research for nearly 40 students through programs such as Louis Stokes Alliances for Minority Participation, First Year Research Experience and Honors Engineering Research Program. In her first year as a faculty member, she founded a student organization called Women in ECE (WECE). WECE has focused events around building a network of people who support women in ECE and changing the image of an electrical or computer engineer.
During the past seven years at OU, Ruyle has worked to redesign courses to make them more accessible and engaging for all students without compromising the fundamental need to develop a deep understanding and mastery of electromagnetics. As one example, the antennas course she teaches is completely project-based, using both commercial-grade full-wave solvers and antenna construction and testing. The final project for this class calls for students to design and build an antenna that can pick up the available broadcast television stations in Norman. Many of the students have reported that they still use the antennas in their homes for television reception.
Posted on Friday Apr 16, 2021 10:17 am CDT
Several ARRC Students Selected for Showcase in OU Undergraduate Research Day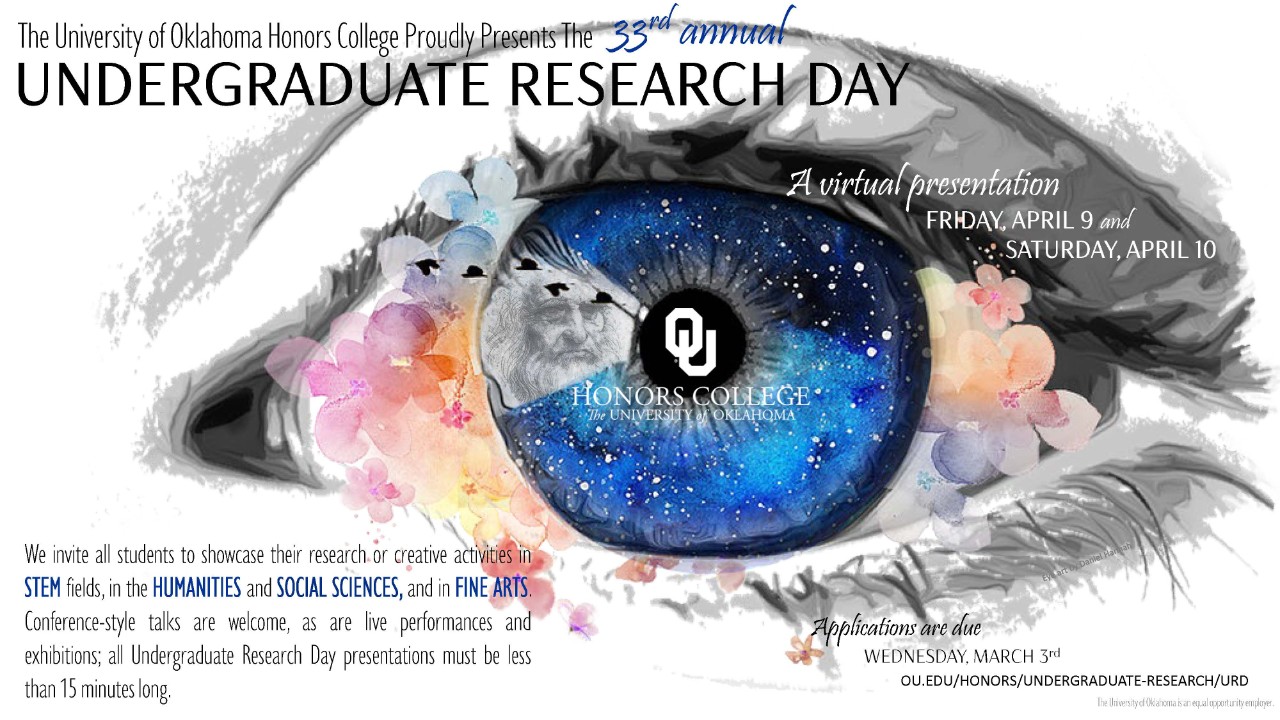 This annual conference and celebration hosted by the Honors College showcases outstanding undergraduate research and creative activity for an audience of other students, faculty, and parents.
In the category of CIVIL, ELECTRICAL AND INDUSTRIAL ENGINEERING II:
- Skyler Garner and Devin Thompson with Prof. Mark Yeary, "5G Beamforming"
- Nicole Palmer and Andrew Gonzalez with Prof. Jay McDaniel, "77GHz Synthetic Aperture Radar Imaging System"
- Amilton Pensamento with Prof. Justin Metcalf, "Interference Characterization and Mitigation for Automotive Radar"
Visit the link here to find this afternoon's session.
Posted on Friday Apr 09, 2021 11:34 am CDT
ARRC Interdisciplinary Teams Receive New VPRP Awards for Excellence in Research Grants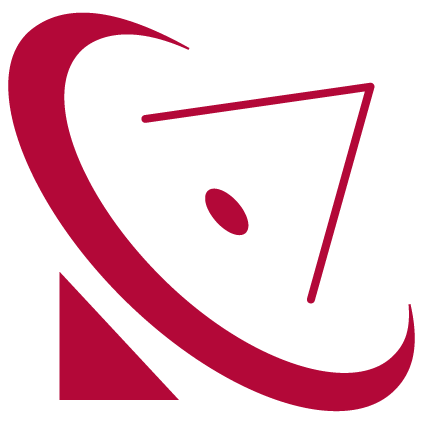 Congratulations to the ARRC's interdisciplinary teams of Faculty, Engineers and Students for their recent recognition by the VPRP for Excellence in Research Grants:
- The team led by Dr. Mark Yeary for the DOD-funded project: Near-field Scanner and Projects for Advanced Digital Radar, $7.4M.
- The team led by Dr. Robert Palmer for the DOC-NOAA funded project: Exploitation of the Horus All-Digital Polarimetric Phased Array Weather Radar, $2M.
These awards were given to the faculty for success in obtaining an extramural research grant with funding in excess of $1 million. The leaders and members of these teams will receive a commemorative Oklahoma rose rock marking their accomplishment.
Posted on Friday Apr 09, 2021 11:24 am CDT
Congratulations again to Russell Kenney for being named ARRC Student of the Month for April 2021!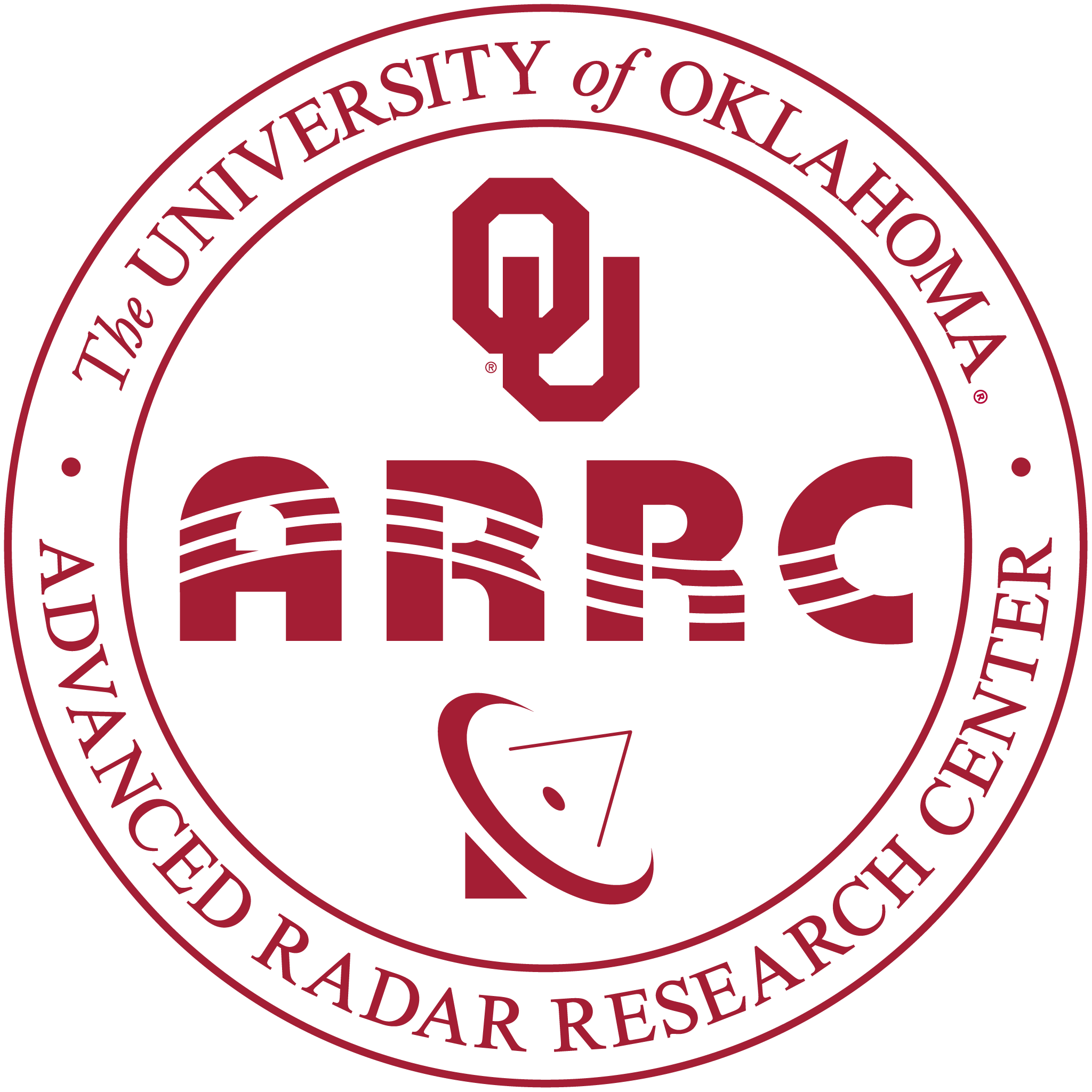 In addition to Russell's DoD fellowship, he has also recently received a Student Journal Paper Award from the ARRC.  Russell works under Jay McDaniel.
His currently funded research includes design and construction of miniaturized radar hardware for UAV-based synthetic aperture radar applications.  You can read more about his proposed research below.
Asked how he likes to spend his free time and about his future plans, Russell said, "I enjoy fishing, spending time with my wife, and participating in community events with Hope Community Church here in Norman. I I hope to become a professor after I complete my degree so that I can continue doing research and investing in the next generation of engineers and scientists."
Posted on Friday Apr 02, 2021 02:36 pm CDT
ECE/ARRC Student Russell Kenney Awarded Prestigious DoD National Defense Science and Engineering Graduate Fellowship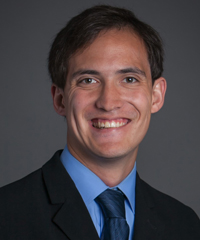 Congratulations to ECE/ARRC Ph.D. student Russell Kenney on being awarded an FY2021 Department of Defense (DoD) National Defense Science and Engineering Graduate (NDSEG) Fellowship! The DoD NDSEG Fellowship Program, established in 1989 by direction of Congress and sponsored by the Army, Navy, and Air Force, serves to increase the number of United States citizens trained in science and engineering disciplines of military importance.
This program is designed to encourage Baccalaureate recipients to enter Graduate school and ultimately gain Doctorates which align with the DoD services Broad Agency Announcements (BAAs) in research and development. Fellows receive a three-year annual stipend, healthcare and travel budget, and the freedom to conduct their own research at any accredited U.S. institution. The NDSEG program received 7,942 submissions this year, resulting in roughly only the top 2% of applicants selected for this highly meritorious fellowship.
Russell's proposed research involves investigating novel fusion-based state estimation techniques for localization and synchronization of distributed radar sensor networks. When implemented, the proposed solution can enable autonomous sensor swarms capable of an extensive array of missions, including distributed high-gain beamforming and synthetic aperture radar imaging. Mr. Kenney is advised by Dr. Jay McDaniel and will continue his Ph.D. studies at the University of Oklahoma.
Posted on Monday Mar 29, 2021 04:29 pm CDT
ECE/ARRC Student Rachel Jarvis Awarded Prestigious NSF Graduate Research Fellowship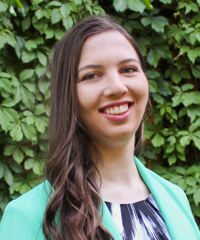 Congratulations to ECE/ARRC Master's student Rachel Jarvis on being awarded and selected into the National Science Foundation Graduate Research Fellowship (GRFP). As the country's oldest fellowship program of its kind, the GRFP recognizes and directly supports outstanding graduate students in NSF-supported science, technology, engineering, and mathematics disciplines who are pursuing research-based masters and doctoral degrees at accredited United States institutions.
Fellows share in the prestige and opportunities of being selected, including a three-year annual stipend, opportunities for international research and professional development, and the freedom to conduct their own research at any accredited U.S. institution. They are crucial to maintaining and advancing the nation's technological infrastructure and national security, as well as contributing to the economic well-being of society at large.
Rachel's proposed research involves investigating novel adaptive pulse compression processing techniques for frequency modulated continuous wave (FMCW) waveforms to explore the foundational limitations on modern-day biomedical imaging radars. Successful derivation, implementation, and validation of the proposed research would have a transformative impact on non-ionizing biomedical radar technologies used in applications such as traumatic brain injury, breast cancer detection, and sinusitis diagnosis. Ms. Jarvis is advised by Dr. Jay McDaniel and will continue her Ph.D. studies at the University of Oklahoma starting this upcoming Fall.
Posted on Thursday Mar 25, 2021 02:24 pm CDT
Professor Hjalti Sigmarsson receives Graddy Award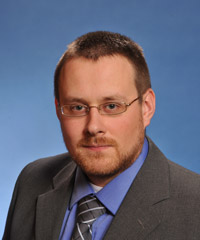 The ARRC is pleased to share that Prof. Hjalti Sigmarsson has received the Graddy Award from OU's Graduate College for his work as the graduate advisor for ECE.
The Graddy Award is given based on nominations from the Graduate College, and recognizes outstanding service to graduate students.
Posted on Thursday Mar 04, 2021 02:58 pm CST
March 2021 Student of the Month: Noah Brauer
A PhD student in the School of Meteorology, Noah is currently advised by Dr. Pierre Kirstetter & Dr. Jeffrey Basara. His recent accomplishments include:
•  ARRC Student Journal Publication Award (2021)
•  School of Meteorology Outstanding Teaching Assistant Award (2020)
•  James Bruce Morehead Award for graduate research in weather and climate (2019)
Noah is currently working on understanding precipitation characteristics and processes in tropical cyclones using ground and space-borne radar observations.  Notable publications include "The Inland Maintenance and Re-intensification of Tropical Storm Bill (2015) Part 2: Precipitation Microphysics" and  "Quantifying Precipitation Efficiency and Drivers of Excessive Precipitation in Post-Landfall Hurricane Harvey."
In his free time, Noah enjoys hiking, cooking, playing soccer, and biking. After completing his Ph.D., he hopes to become a professor so that he can continue to do research, teach, mentor and work with students, and participate in field campaigns.
Posted on Tuesday Mar 02, 2021 12:10 pm CST
February 2021 Student of the Month: Heath Vann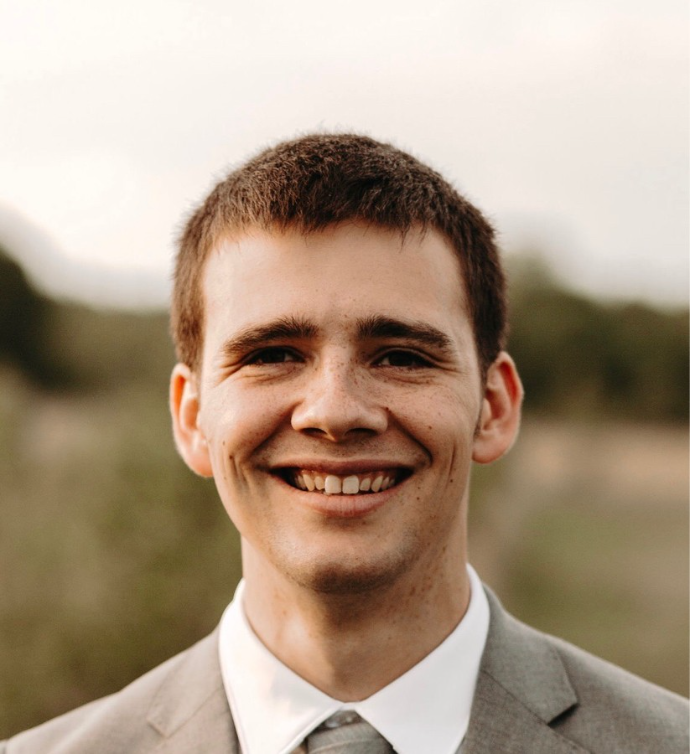 Congratulations to our February 2021 student of the month, Heath Vann.  Heath is a Masters student in the school of Electrical and Computer Engineering, advised by Dr. Nathan Goodman.
Heath's research with Dr. Goodman focuses on on simultaneous transmit and receive (STAR) with all-digital arrays for multi-function applications.
In his free time, Heath enjoys spending time outdoors, playing disc golf, and spending time with his wife.
Posted on Monday Feb 01, 2021 12:45 pm CST