News Archive
News articles in the past
Dr. Nathan Goodman Elevated to IEEE Fellow Status
Congratulations to Dr. Nathan Goodman, GCoE professor and ARRC Director of Operations, on being elevated to the status of Fellow in the Institute of Electrical and Electronics Engineers (IEEE) organization. IEEE Fellow is a distinction reserved for select IEEE members whose extraordinary accomplishments in any of the IEEE fields of interest are deemed fitting of this prestigious grade elevation. The total number selected in any one year does not exceed one-tenth of one percent of the total voting Institute membership. Dr. Goodman was selected for his contributions to cognitive and distributed radar signal processing.
Posted on Monday Nov 27, 2023 03:55 pm CST
ARRC Grad Students Place First and Third at IEEE International Radar Conference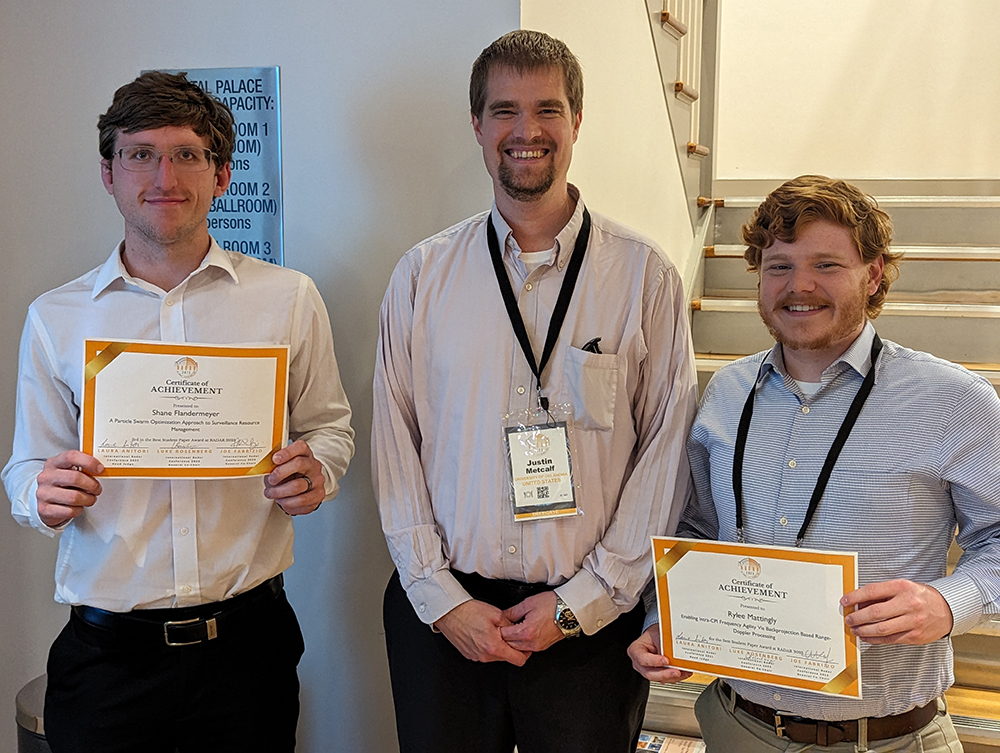 ECE/ARRC graduate students Rylee Mattingly (pictured on right) and Shane Flandermeyer (pictured on left) placed 1st and 3rd respectively in the Student Paper Competition at the IEEE International Radar Conference held November 6-10 in Sydney, Australia.
"There were 76 entries, so this was a very competitive event", said their advisor, Justin Metcalf (also pictured). "They did a fantastic job defending their work to a panel of judges from the Radar System Panel, including researchers who are literally worlds experts in the exact areas of their papers".
Rylee's paper was titled "Enabling Intra-CPI Frequency Agility Via Backprojection Based Range-Doppler Processing" and Shane's was titled "A Particle Swarm Optimization Approach to Surveillance Resources Management".
Posted on Monday Nov 13, 2023 11:26 am CST
What a Great Day for a Hike!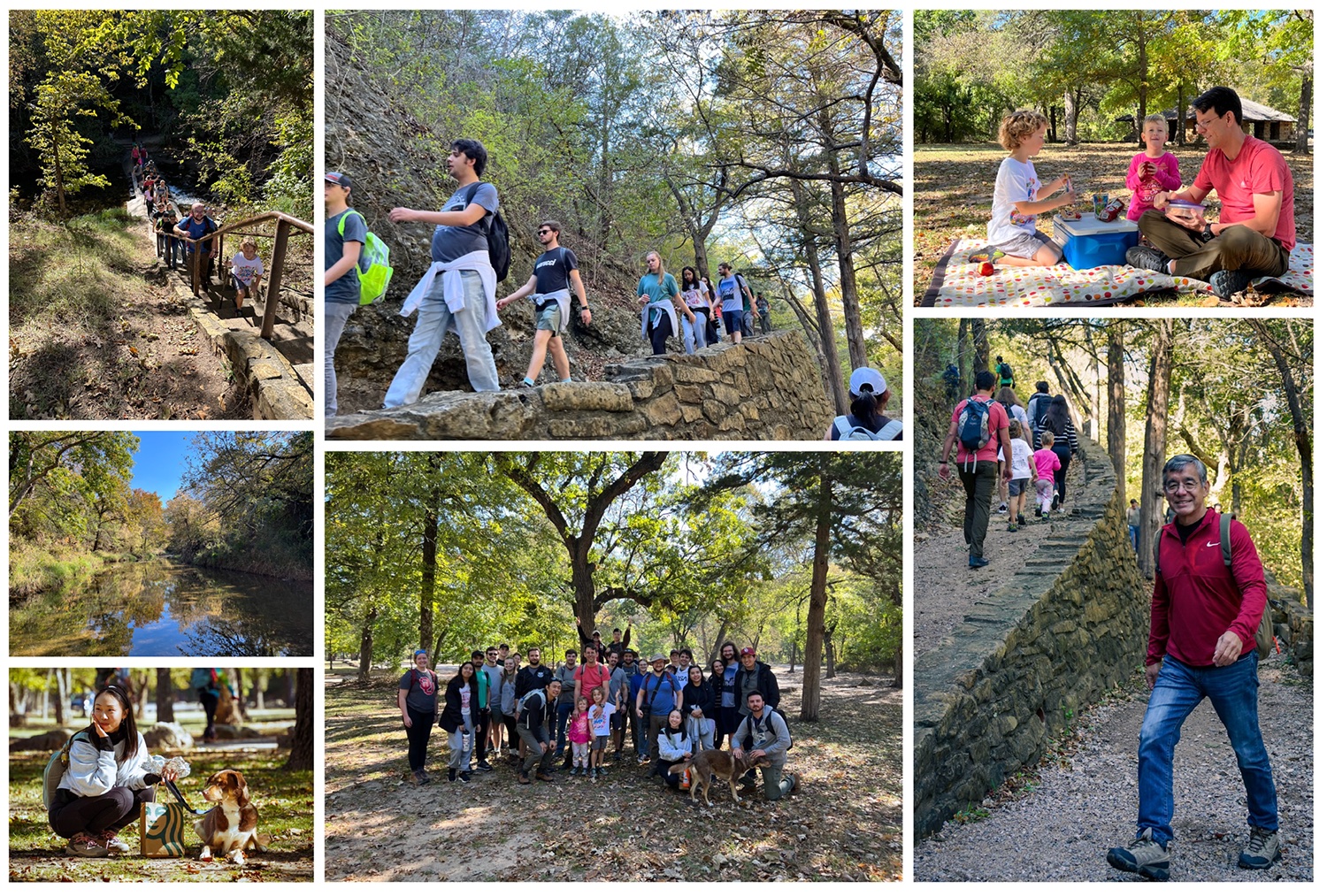 Members of the ARRC took to the trails of the Chickasaw National Recreation Area for the annual ARRC hiking trip on Saturday, November 4.
Posted on Friday Nov 10, 2023 04:52 pm CST
Sam Emmerson Awarded 2023 Weathernews Scholarship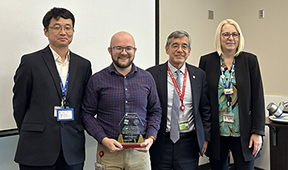 The 2023 Weathernews Scholarship has been awarded to Sam Emmerson, PhD student in the School of Meteorology and the ARRC. Sam's work was highlighted at the 12th Annual Workshop on Weathernews and OU Collaboration held November 1, 2023 at the Radar Innovations Lab.  
Pictured with Sam are Michihiro Teshiba from Weathernews, ARRC Executive Director Bob Palmer, and Petra Klein, Executive Associate Dean, College of Atmospheric and Geographic Sciences.
Posted on Thursday Nov 02, 2023 10:02 am CDT
ARRC Lights It Up During 2023 Homecoming Parade

The ARRC put on a festive light display during OU's Homecoming parade Friday night. Even the radar trucks got in on the action.
Posted on Wednesday Oct 25, 2023 09:43 am CDT
Dr. Jorge Salazar Selected to AMTA Symposium Committee and Board of Directors
Dr. Jorge Salazar (top row left) has been selected as the Technical Coordinator for the 2024 IEEE Antenna Measurement Techniques Association (AMTA) meeting and symposium. In addition, he has also been elected to the 2024 AMTA Board of Directors. "It's an honor to join forces with such a dedicated community. With AMTA's rich history of fostering advancements in electromagnetic measurement technologies alongside IEEE, I'm looking forward to contributing to this legacy and the upcoming AMTA 2024 symposium", Dr. Salazar said.
Posted on Friday Oct 13, 2023 10:24 am CDT
Alexis Oblitas Receives Paper Award at AMTA Symposium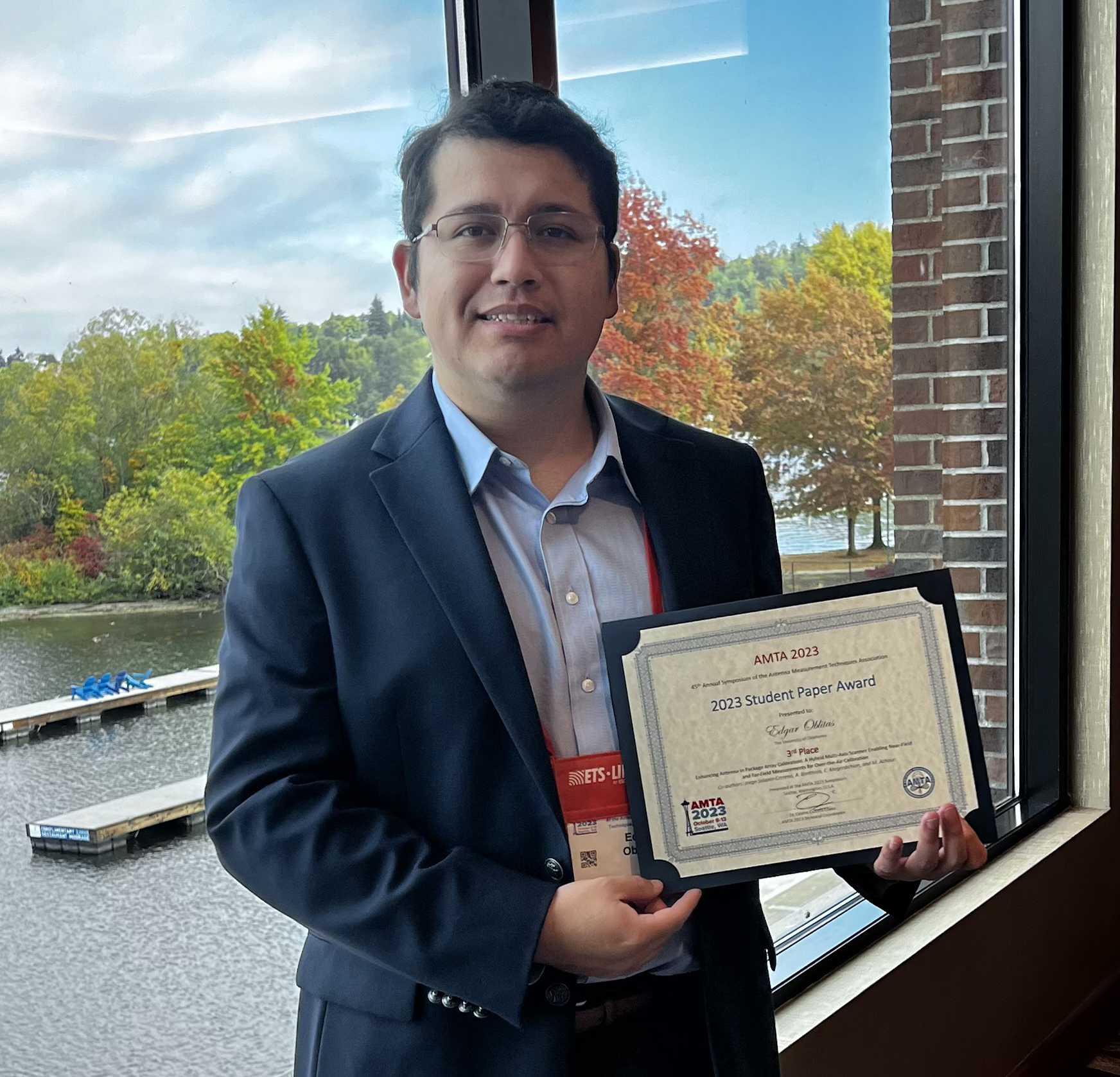 Congratulations to ARRC/ECE graduate student, Alexis Oblitas, who was awarded third place for his paper "Enhancing On-Chip Antenna mmWave Calibration: A Hybrid Multi-Axis Scanner Enabling Near-Field and Far-Field Measurements for Over-the-Air Calibration"at the IEEE Antenna Measurement Techniques Association (AMTA) Symposium held in Seattle. WA. Oct. 8-13. Alexix is advised by Dr. Jorge Salazar.
Posted on Thursday Oct 12, 2023 01:48 pm CDT
ARRC Launches "Horus", the Most Advanced Weather Radar in the World

The University of Oklahoma has developed and now deployed the most advanced weather radar in the world. Led by a team of engineers and weather experts, and with funds from NOAA's National Severe Storms Laboratory, the Advanced Radar Research Center at OU has launched "Horus," an all-digital polarimetric phased array radar capable of obtaining data with unprecedented quality and temporal resolution to help understand and predict the formation of severe weather. Click here to read entire article.
Posted on Tuesday Oct 10, 2023 02:27 pm CDT
ARRC Receives $8.16 Million ONR Grant to Advance Counter-UAS Technologies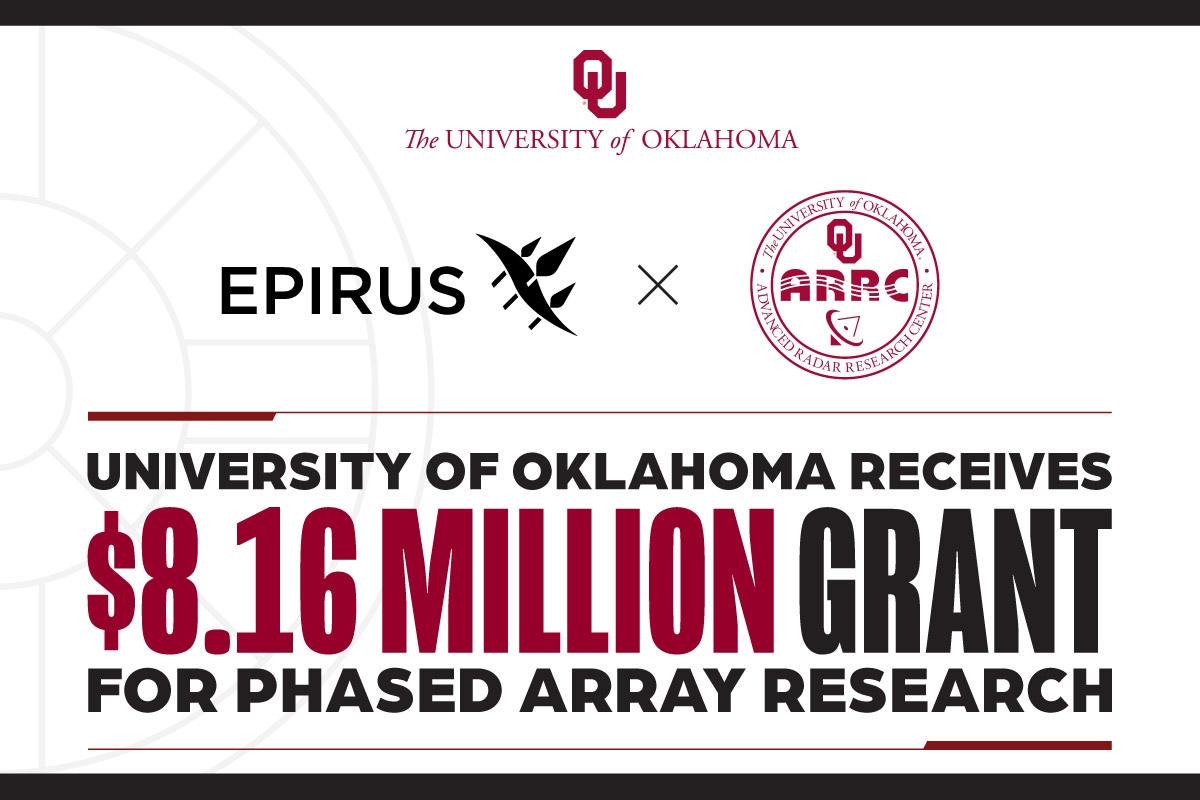 The ARRC and Epirus, Inc. have been awarded an $8.16 million Office of Naval Research grant to develop breakthrough long-distance phased array applications. The grant was awarded for joint effort to maximize output power of phased arrays for enhanced operational ranges utilizing AI and digital twin best practices. Click here to read full article.
Posted on Thursday Sep 28, 2023 10:25 am CDT
Sam Emmerson Receives Award at 2023 AMS Radar Meteorology Conference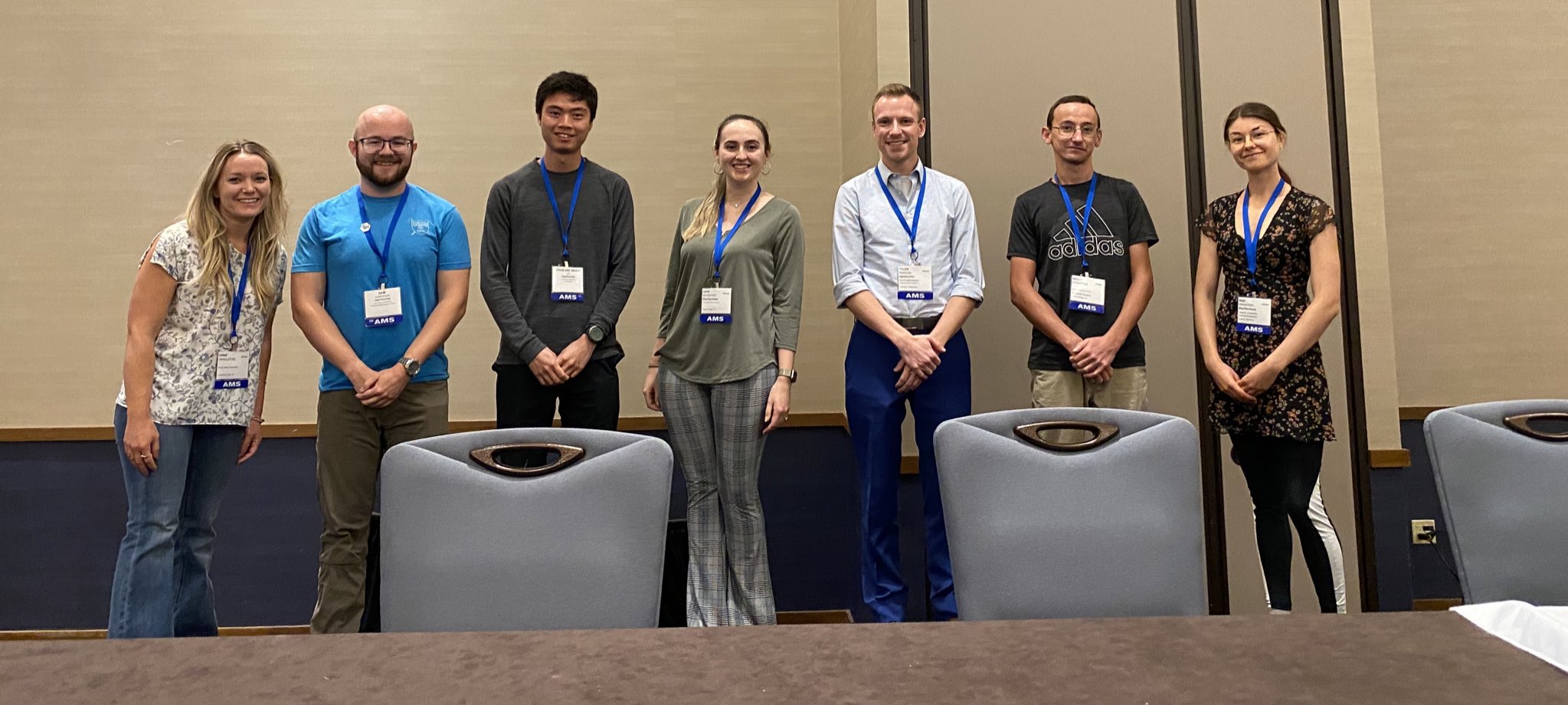 Congratulations to SoM/ARRC graduate student Sam Emmerson (second from left) for receiving 3rd place in the poster contest at the AMS 40th Conference on Radar Meteorology, held recently in Minneapolis, MN.  Sam's poster highlighted his research on the validation of multistatic wind retrievals using a vertical pointing mobile radar. (S.W. Emmerson, R.D. Palmer, D.J. Bodine, D. Schvartzman, P. Kirstetter, and P.S. Skinner, 2023: Validation of Multistatic Wind Retrievals Using a Vertically Pointing Mobile Radar. 40th Conf. on Radar Meteorology, Minneapolis, MN, Amer. Meteor. Soc., P74.)
Posted on Friday Sep 08, 2023 03:15 pm CDT