News Archive
News articles in the past
Min-Duan Tzeng, May 2023 Student of the Month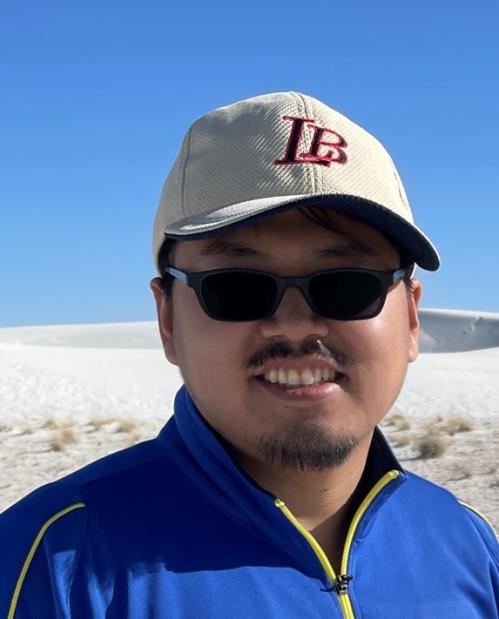 Min-Duan Tzeng is a Ph.D. student in the School of Electrical and Computer Engineering, advised by Dr. Tian Yu and Dr. David Bodine.
How long have you been part of the ARRC:
"It has been about two and half years that I have been at the ARRC."
Any scholarships/journal awards/publications ect. that you have received:
• Government Scholarship to Study Abroad from Taiwan Ministry of Education, 2021-2024
Current Research:
"I am currently working on a project that involves the application of spectral polarimetry for observing thunderstorms and atmospheric electricity. Additionally, I am developing a polarimetric radar spectrum simulator that incorporates both transmission and receiving polarization flexibility."
What do you like to do in your free time:
"I play tennis, video games and board games with friends."
Plans for after graduating:
"I plan to apply for positions in a radar research facility as a software or system engineer specializing in system development and signal processing."
Posted on Thursday May 18, 2023 10:49 am CDT
Dr. David Schwartzman Receives 2022 IEEE R5 Outstanding Young Professional Award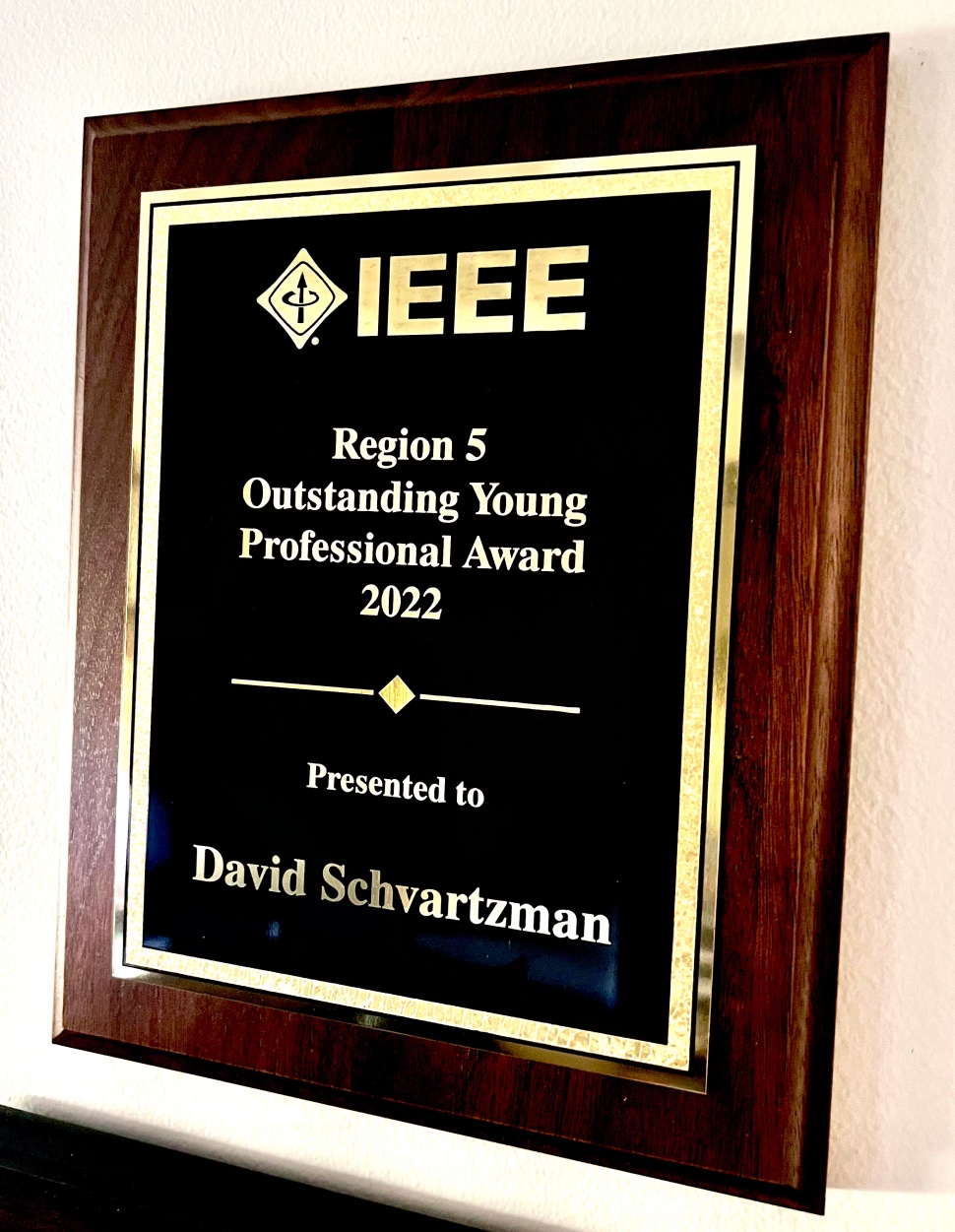 Dr. David Schvartzman, SoM Assistant Professor and member of the ARRC, received the "2022 IEEE R5 Outstanding Young Professional" Award. This award is designed to recognize those substantive projects or achievements of a relatively short nature but which have left an undeniable imprint on the fabric of Young Professionals.
David received the award in recognition of his effort to advance dual-polarization phased array radar technology for meteorological observations. He was nominated for his development of waveforms, custom beam patterns, scanning strategies and algorithms to advance polarimetric phased array radar technologies for weather observations. David also developed numerous signal processing and polarimetric calibration algorithms, to bring the data produced by phased array radars beyond quality standards of current operational weather radar networks. He has more than 25 co-authored journal publications, more than 100 co-authored conference papers, and has achieved the IEEE Senior Membership. He is also the current chair of the IEEE OKC Young Professionals Affinity Group.
Posted on Friday May 12, 2023 04:27 pm CDT
Dr. Justin Metcalf Receives Top IEEE AESS Early Career Award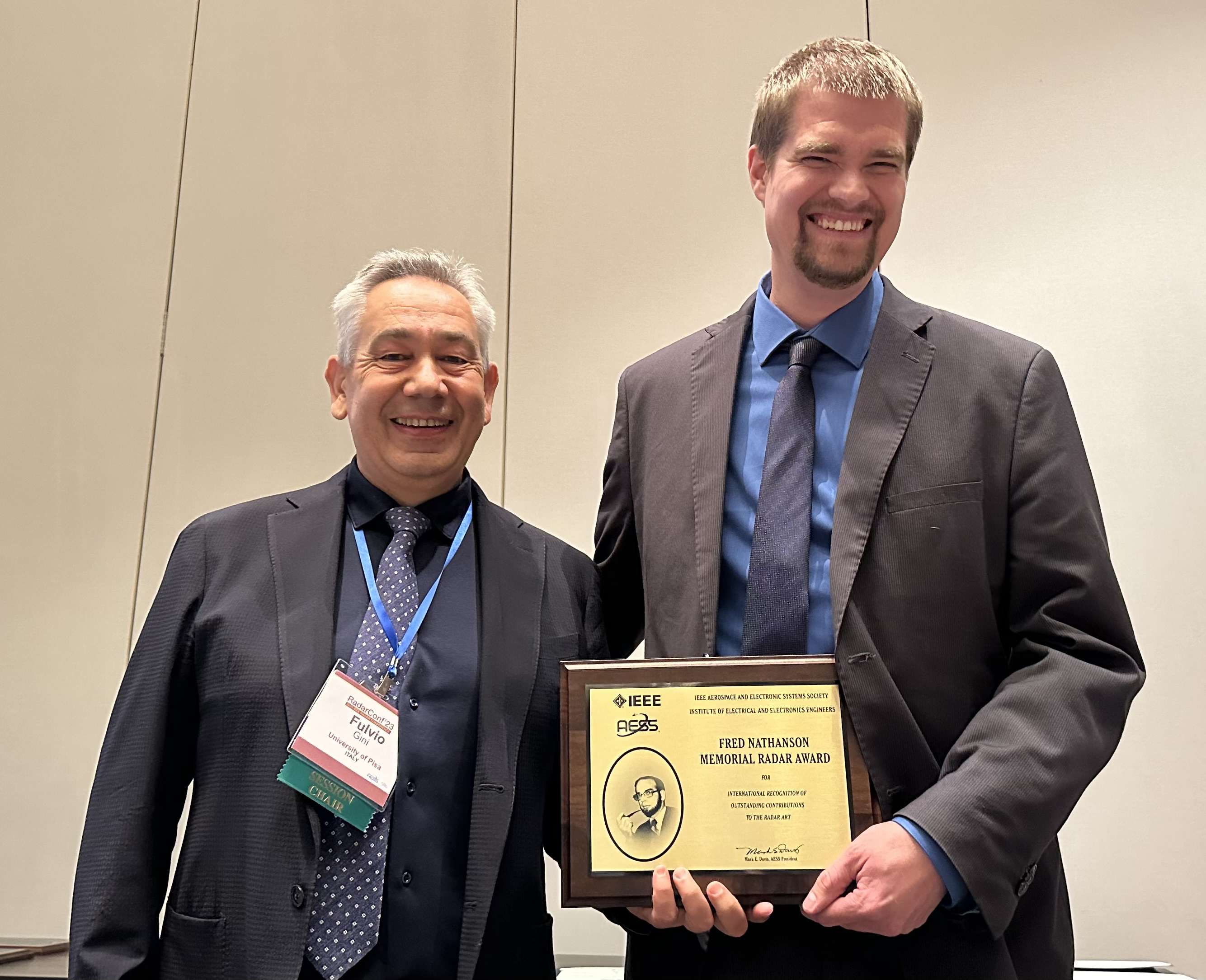 Justin Metcalf, Ph.D., assistant professor in the School of Electrical and Computer Engineering, Gallogly College of Engineering, and an affiliate faculty in the Advanced Radar Research Center at the University of Oklahoma, has received the 2023 Fred Nathanson Memorial Radar Award from the Aerospace and Electronic Systems Society of the Institute of Electrical and Electronics Engineers for his contributions to radar embedded communications, spectrum sharing, and cognitive radar.
The competitive international award recognizes "individual contributions to the radar community through technical papers, presentations, inventions or products" and is selected by committee members of the IEEE Aerospace and Electronic Systems Society Radar Systems Panel. The award began in 1985. Metcalf is the first U.S. recipient since 2019 and the sixth U.S. recipient over the past 20 years. Click Here to read more.
Posted on Thursday May 04, 2023 01:56 pm CDT
New ARRC Short Video
Posted on Thursday May 04, 2023 10:44 am CDT
Jon Knowles Awarded Prestigious DoD National Defense Science and Engineering Graduate Fellowship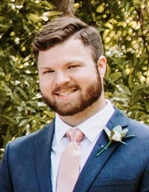 Congratulations to ECE/ARRC Ph.D. student Jon Knowles on being awarded an FY2023 Department of Defense (DoD) National Defense Science and Engineering Graduate (NDSEG) Fellowship! The DoD NDSEG Fellowship Program, established in 1989 by direction of Congress and sponsored by the Air Force Office of Scientific Research (AFOSR), the Army Research Office (ARO), and the Office of Naval Research under the direction of the Office of the Under Secretary of Defense for Research and Engineering, serves to increase the number of United States citizens receiving doctoral degrees in science and engineering disciplines of military importance.
This program is designed to encourage Baccalaureate recipients to enter graduate school and ultimately gain a doctorate degree, which aligns with the DoD services Broad Agency Announcements (BAAs) in research and development. Fellows receive a three-year annual stipend, healthcare and travel budget, and the freedom to conduct their own research at any accredited U.S. institution. The NDSEG program received 3,080 submissions this year, resulting in only the top 5% of applicants selected for this highly meritorious fellowship.
Jon's proposed research was titled "Multi-sensor Fusion Framework for Enhanced Relative Navigation Accuracy in Cooperative Multi-Agent Networks." The research goal of the project is to develop an overall mathematical framework for distributed sensor navigation to achieve unprecedented relative position accuracy of mobile radar nodes with and without GPS access. This research will provide critical insights into next-generation inertial navigation system (INS) design, precise relative navigation in non-ideal environments, cooperative flight dynamics, and future distributed sensing modalities. Mr. Knowles is advised by Dr. Jay McDaniel and will continue his Ph.D. studies at the University of Oklahoma.
Posted on Wednesday May 03, 2023 03:35 pm CDT
Morgan Gammons Receives Distinguished Performance Award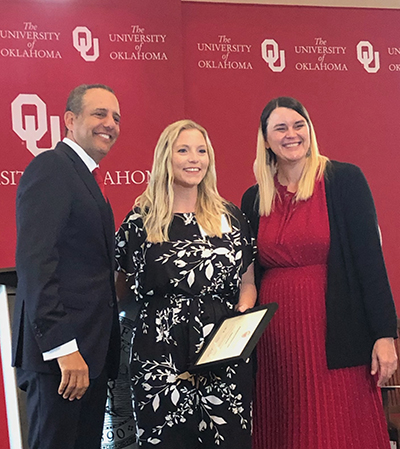 Congratulations to Morgan Gammons, ARRC program management staff member, who recently received one of the 2023 Distinguished Performance Awards, given annually for outstanding job performance.
 The award was presented by OU President Joe Harroz and Staff Senate Chairman Heather Todd during a Staff Week ceremony.
Posted on Wednesday Apr 26, 2023 02:42 pm CDT
ARRC Faculty Presents at IEEE Germany YP Webinar

ARRC professor Dr. David Schvartman is presenting at the 2023 IEEE Germany YP Webinar. His talk is titled "Capabilities and Applications of Digital Phased Array Radar Technologies." The webinar will focus on the potential of phased array radars (PARs) for atmospheric remote sensing and their unique and flexible capabilities that have the potential to improve weather radar products. PAR technology allows for almost instant steering of the radar beam in any direction, the flexibility to redefine sampling parameters for each beam position, and the ability to form multiple simultaneous beams in different directions. The talk will also touch on the feasibility of producing high-accuracy dual-polarization PAR observations, which has gained attention in the research community recently. Join the webinar to learn more about the current developments in PAR technology and its potential applications in atmospheric science.
Click here for the flyer.
Posted on Monday Apr 24, 2023 12:42 pm CDT
New ARRC Short Video
Posted on Wednesday Apr 12, 2023 11:11 am CDT
Cora DeFrancesco Awarded Prestigious NSF Graduate Research Fellowship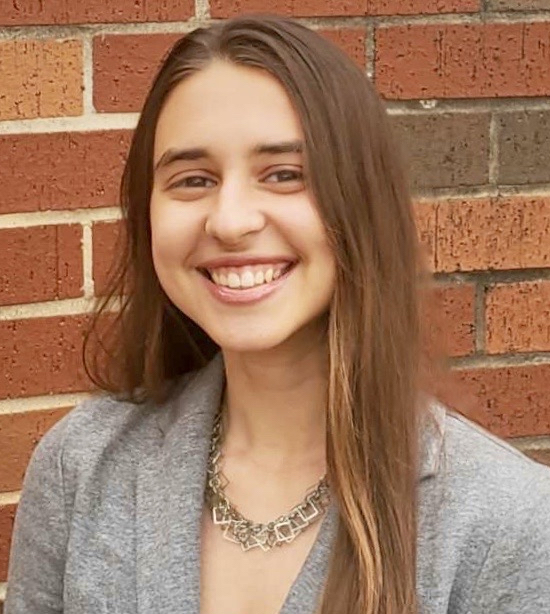 Congratulations to ECE/ARRC master's student Cora DeFrancesco on being awarded and selected into the National Science Foundation (NSF) Graduate Research Fellowship Program (GRFP). As the country's oldest fellowship program of its kind, the GRFP recognizes and directly supports outstanding graduate students in NSF-supported science, technology, engineering, and mathematics (STEM) disciplines who are pursuing research-based masters and doctoral degrees at accredited United States institutions.   
Fellows share in the prestige and opportunities of being selected, including a three-year annual stipend, opportunities for international research and professional development, and the freedom to conduct their own research at any accredited U.S. institution. They are crucial to maintaining and advancing the nation's technological infrastructure and national security, as well as contributing to the economic well-being of society at large.   
Cora's NSF GRFP proposal was focused on the idea of combining the power of distributed navigation and synthetic aperture radar (SAR) imaging techniques as a translatable technology and testbed for future space-based radio telescope missions. The fundamental research question being asked is "How can a distributed network of several cooperative linked radars be precisely located in a GPS-denied environment to achieve high-resolution space-based imaging?" Cora plans to investigate the feasibility of a system containing a star tracker as an alternative navigational system input, evaluate different estimation filters to combine information from heterogeneous sources, and finally design a cooperative distributed navigation prototype system for a next-generation, space-based Event Horizon Telescope (EHT) concept. A network of cooperative and coherent CubeSat based radars would allow for extremely large baselines (synthetic apertures) with faster revisit times to enable unprecedented image clarity of astronomical objects. Ms. DeFrancesco is a masters student advised by Dr. Jay McDaniel and currently plans to continue her Ph.D. studies at the University of Oklahoma after her masters.
Posted on Friday Mar 31, 2023 03:18 pm CDT
ARRC Professors Attend GADRI Summit

ARRC professors, Drs. Tian Yu and Robert Palmer, recently participated in the 6th Global Summit of GADRI (Global Alliance Disaster Research Institute) in Kyoto, Japan. The goal of GADRI is to bring awareness and provide solutions to reduce the risk of global disasters.
Posted on Wednesday Mar 22, 2023 02:36 pm CDT