News Archive
News articles in the past
Fun Times at the 2022 Homecoming Parade!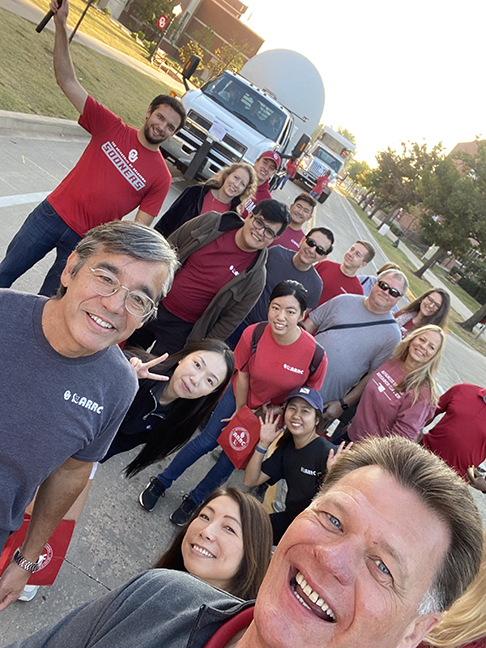 Posted on Friday Oct 28, 2022 04:18 pm CDT
Cesar Salazar and Yoon-SL Kim Take Top Honors at IEEE PAST Symposium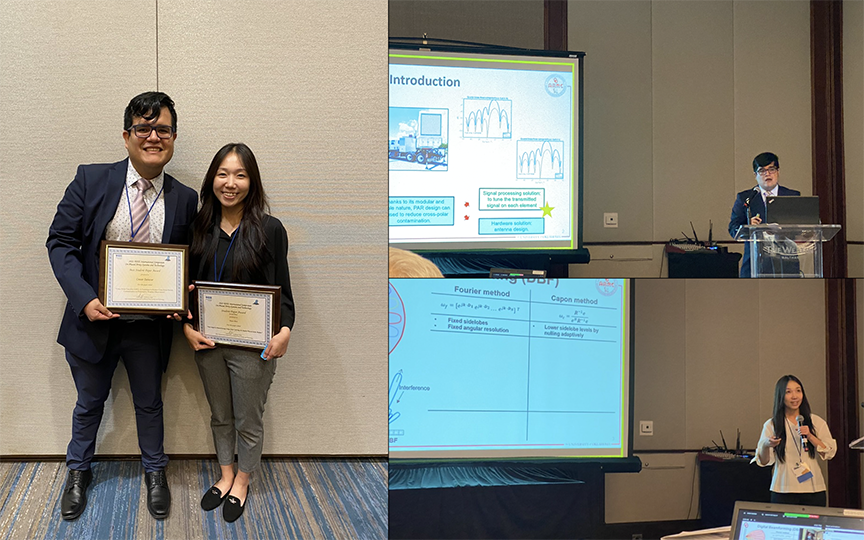 Two ARRC/ECE graduate students took top honors for best student paper presentations at the 2022 IEEE International Symposium on Phased Array Systems and Technology (PAST) held in Boston, MA, Oct. 11-14. The symposium attracted hundreds of attendees from across the world.  
Cesar Salazar was awarded first place and Yoon-SL Kim took second for their contributions to advancing phased array technology for observations of severe weather. Cesar is advised by Drs. Boon Leng Cheong and Robert Palmer, and Yoon is advised by Dr. David Schvartzman.
Posted on Friday Oct 14, 2022 02:00 pm CDT
Dr. Robert Palmer Gives Plenary Talk at IEEE PAST Symposium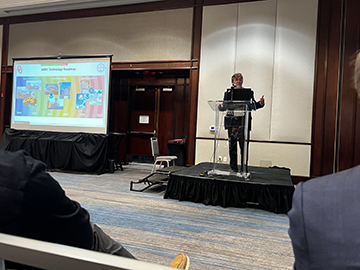 ARRC Executive Director Robert Palmer was invited to give a plenary talk at the 2022 IEEE Phased Array Symposium held recently in Boston.  The topic of the presentation was the Horus polarimetric phased array weather radar program.
Posted on Friday Oct 14, 2022 11:15 am CDT
Announcing the October 2022 Student of the Month, Aimee Matland-Dixon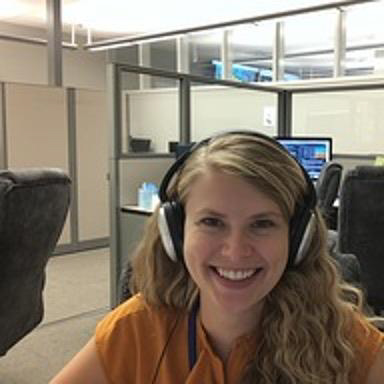 Aimee is a Ph.D. student in the School of Meteorology, advised by Drs. Robert Palmer and Pierre Kirstetter.
How long have you been a part of the ARRC:
"I started as an undergraduate research assistant in electrical engineering in 2014 and was affiliated with the ARRC through my masters degree. After graduating and working in industry I returned as a PhD student in Meteorology one year ago, reaffiliating me with the ARRC."
Current Research: 
"My research asks the question: "With a phased array, how can we improve our estimation of how much water falls on the ground?" This is termed quantitative precipitation estimation (QPE)."
What do you like to do in your free time:
"I am an "outside person" who enjoys gardening, hiking, grilling, and snoozing in hammocks."
Plans for after graduating:
"I am not sure where I will end up but hope to find opportunities that allow me to continue to pursue research related to my PhD topic."
Posted on Friday Oct 14, 2022 10:11 am CDT
OU Regents Visit Radar Lab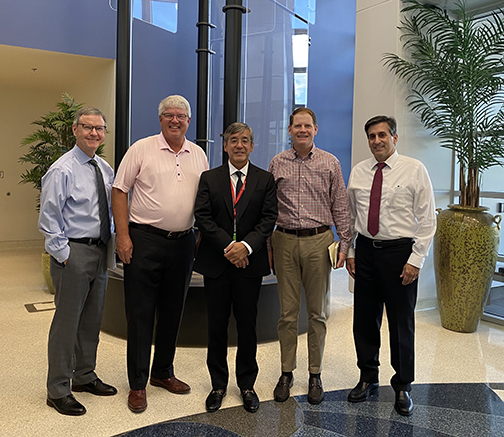 OU Regents recently included the Radar Innovations Lab as part of their tour of the Research Campus. Pictured with ARRC Executive Director Bob Palmer (center) are (l. to r.) Tim Rhodes, Executive Secretary of the Board of Regents, Regents Rick Braught and Robert Ross, and John Antonio, Sr. Associate VP for Research and Partnerships.
Posted on Monday Sep 12, 2022 05:13 pm CDT
Cesar Salazar Wins Best Oral Presentation at ERAD 2022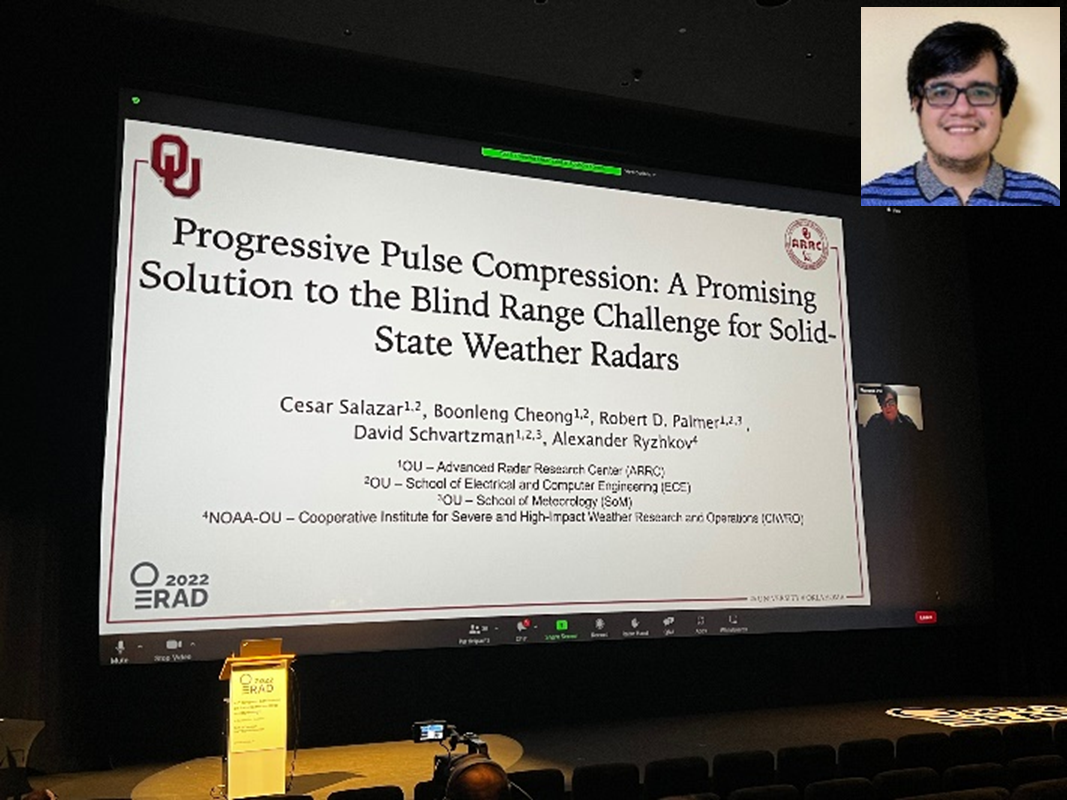 Congratulations to ARRC/ECE PhD student Cesar Salazar for obtaining the best student paper award at the 11th European Conference on Radar in Meteorology and Hydrology, held in Locarno, Switzerland from 8/29 to 9/2. He is being advised by Drs. Palmer and Cheong, and is currently in his last semester of the PhD program.
Cesar's paper titled, "Progressive Pulse Compression: A Promising Solution to the Blind Range Challenge for Solid-State Weather Radar", was presented in the Radar Signal and Doppler Processing session. The paper discussed the novel progressive pulse compression technique (PPC), which mitigates the blind range that typically obscures pulse-compression data near the radar. The presentation was focused on applications of PPC to a variety of meteorological events (convective/stratiform precipitation systems) and using different scanning modes (PPI, RHI, STSR and ATSR) to collect the data. Cesar also briefly discussed the enhanced version "PPC " which further reduces range-sidelobe contamination within the recovered blind range. The key takeaway was that PPC can retrieve polarimetric measurements at ranges close to the radar, even with long pulse compression waveforms, without impacting data quality. Congratulations, Cesar!
Posted on Tuesday Sep 06, 2022 08:37 am CDT
Announcing the September 2022 Student of the Month, Shane Flandermeyer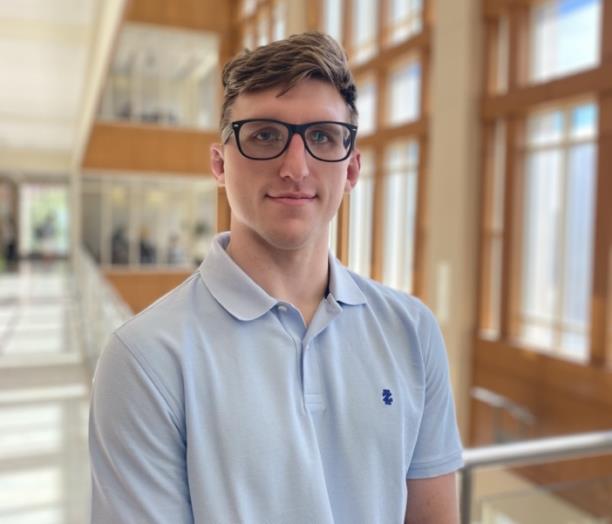 Shane Flandermeyer is an M.S. student in the School of Electrical and Computer Engineering, advised by Dr. Justin Metcalf.
How long have you been a part of the ARRC:
"I joined the ARRC as an undergraduate in Fall 2018 through the Honors college FYRE program, where I worked with Dr. Metcalf on developing open-source software for doing radar with software-defined radio (SDR) systems. I completed my B.S. in electrical engineering in the Spring, and I am just beginning to work on my master's thesis this semester."
Scholarships/journal awards/publications etc. that you have received:
• National Science Foundation Graduate Research Fellowship Program (GRFP) award
• Astronaut Scholarship
• Outstanding Senior in electrical engineering
• S. Flandermeyer, R. Mattingly and J. Metcalf, "gr-plasma: A New GNU Radio-based Tool for Software-defined Radar", Proceedings of the GNU Radio Conference, 2022 (Accepted)
Current Research:
"For my thesis, I plan to examine the use of various reinforcement learning methods for performing radar resource management problems such as task scheduling, beam positioning, and parameter selection. I also maintain a GNU Radio module for collecting and processing radar data from SDRs in real time."
What do you like to do in your free time:
"In my free time, I enjoy lifting weights, practicing judo, and playing basketball."
Plans for after graduating:
"After completing my M.S., I plan to stay at the ARRC to pursue my Ph.D. and to continue researching the applications of machine learning to radar problems."
Posted on Thursday Sep 01, 2022 01:40 pm CDT
Vice Admiral Jeffrey Trussler visits the ARRC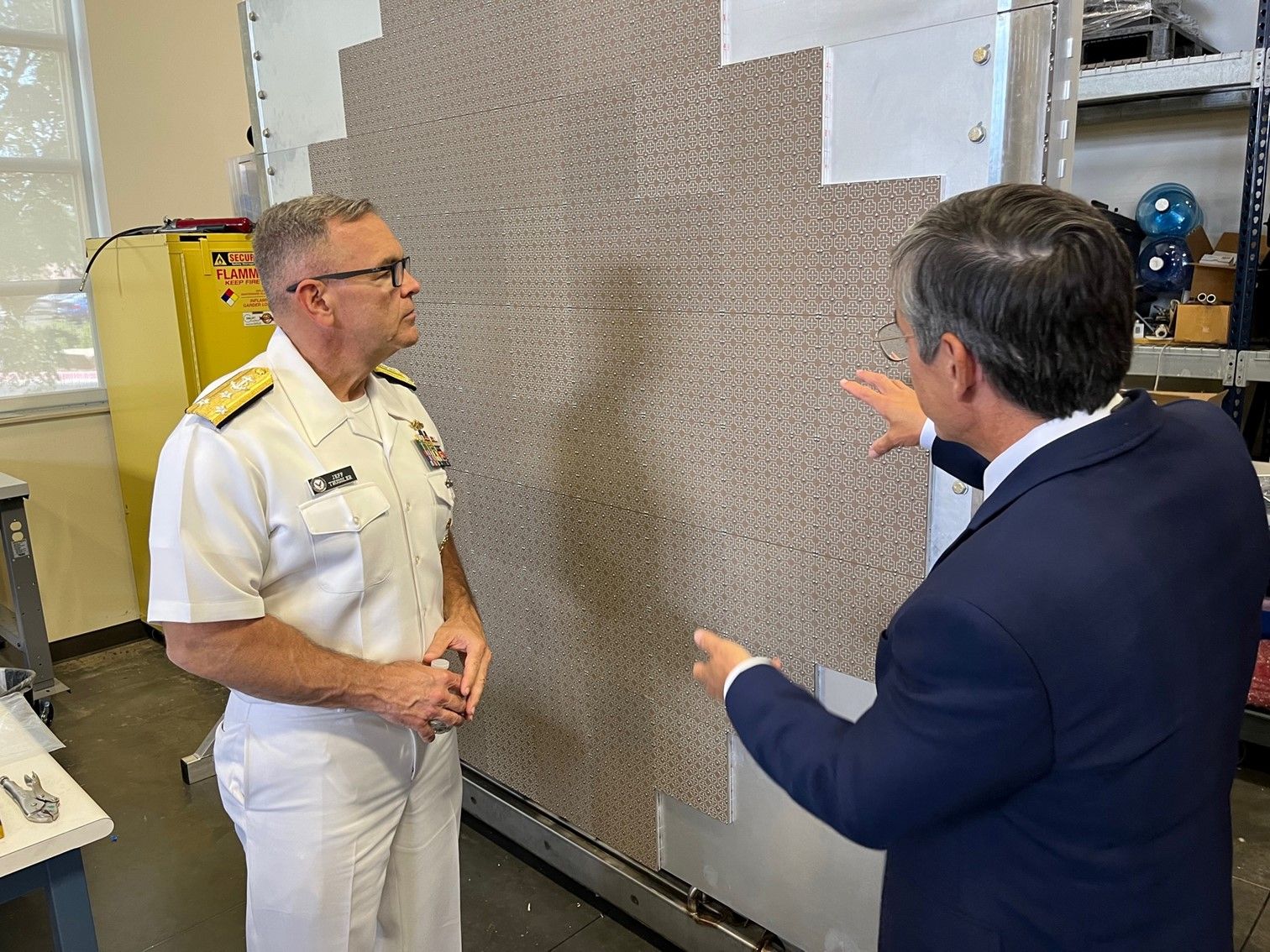 Oklahoma Native and Deputy Chief of Naval Operations for Information Warfare, Vice Admiral Jeffrey Trussler, recently visited the University of Oklahoma and toured the Radar Innovations Lab with Bob Palmer, executive director of the Advanced Radar Research Center and Gene Kirkland, executive director of the Oklahoma Aerospace and Defense Institute.
Posted on Thursday Sep 01, 2022 08:44 am CDT
Saving Lives With All-Digital Radar Enhanced Detection and Forecasting
"What if you could detect a tornado with greater confidence minutes before the funnel reached the ground, posed a grave danger to life, and tracked its path along the ground with much greater accuracy?
Today, meteorologists, data scientists, and engineers at the University of Oklahoma's Advanced Radar Research Center (ARRC), in collaboration with Analog Devices Inc. (ADI), are designing, building, testing, and fielding a next-generation, all-digital polarimetric phased array radar system. The breakthrough innovation funded by NOAA's National Severe Storms Laboratory (NSSL) will allow for real-time monitoring, improved forecasting, and the earlier detection of severe weather than anything that has come before."
Read more here.
Posted on Tuesday Aug 30, 2022 08:41 am CDT
Register for a Student-Led Workshop to Plan a Mobile Radar Field Experiment on August 24, 2022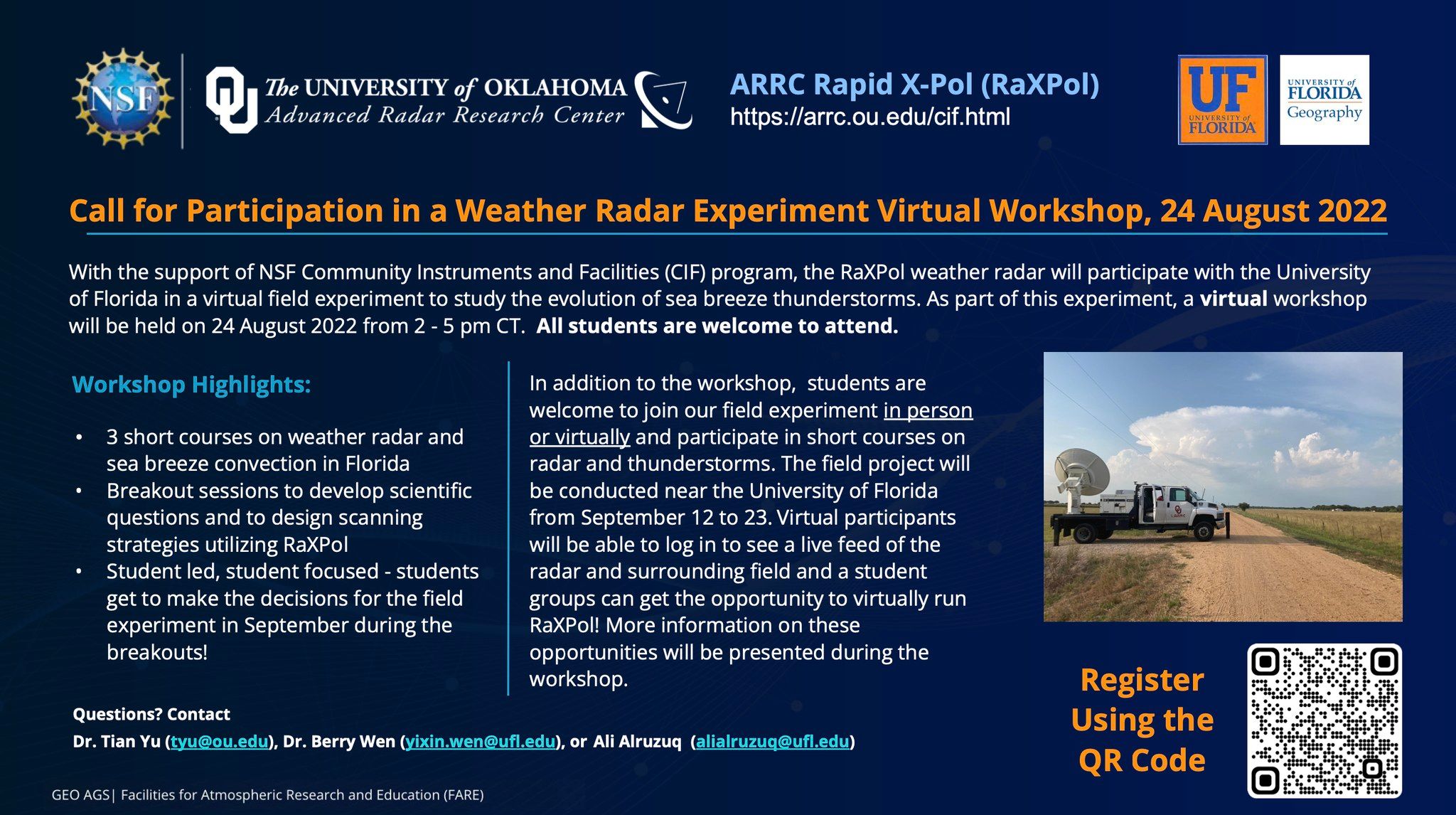 We are hosting a student-led virtual workshop to plan a field experiment with the NSF CIF RaXPol mobile radar in Florida on August 24 from 2-5 CT! Students will work together to determine the science objectives and radar scanning strategies. You can register for the workshop here.
In September, students can virtually participate in the RaXPol experiment. We will have a live camera view to see RaXPol in action, as well as a link to our live data display! Short courses on radar and thunderstorms will also be offered.
Posted on Thursday Aug 18, 2022 12:34 pm CDT