News Archive
News articles in the past
Fort Sill Executive Leadership Program visits the ARRC for Tour and Overview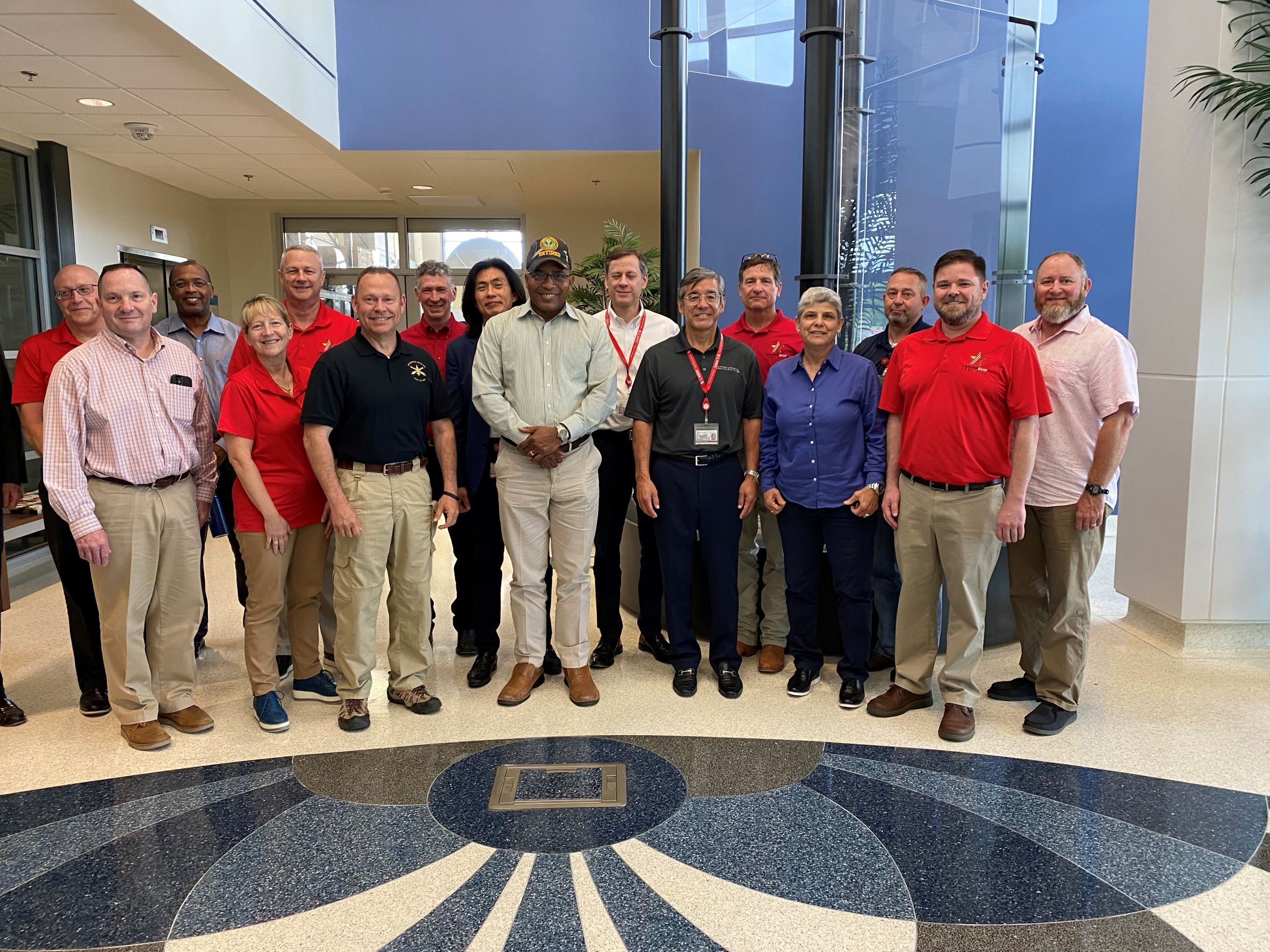 The ARRC was pleased to welcome the Executive Leadership Program group from Fort Still on May 13, 2021.  The group toured the Radar Innovations Lab, and met with ARRC leadership and faculty for an overview of our center.
Posted on Friday May 20, 2022 10:28 am CDT
ARRC Professor Honored as the 2022 Latinx Outstanding Faculty of the Year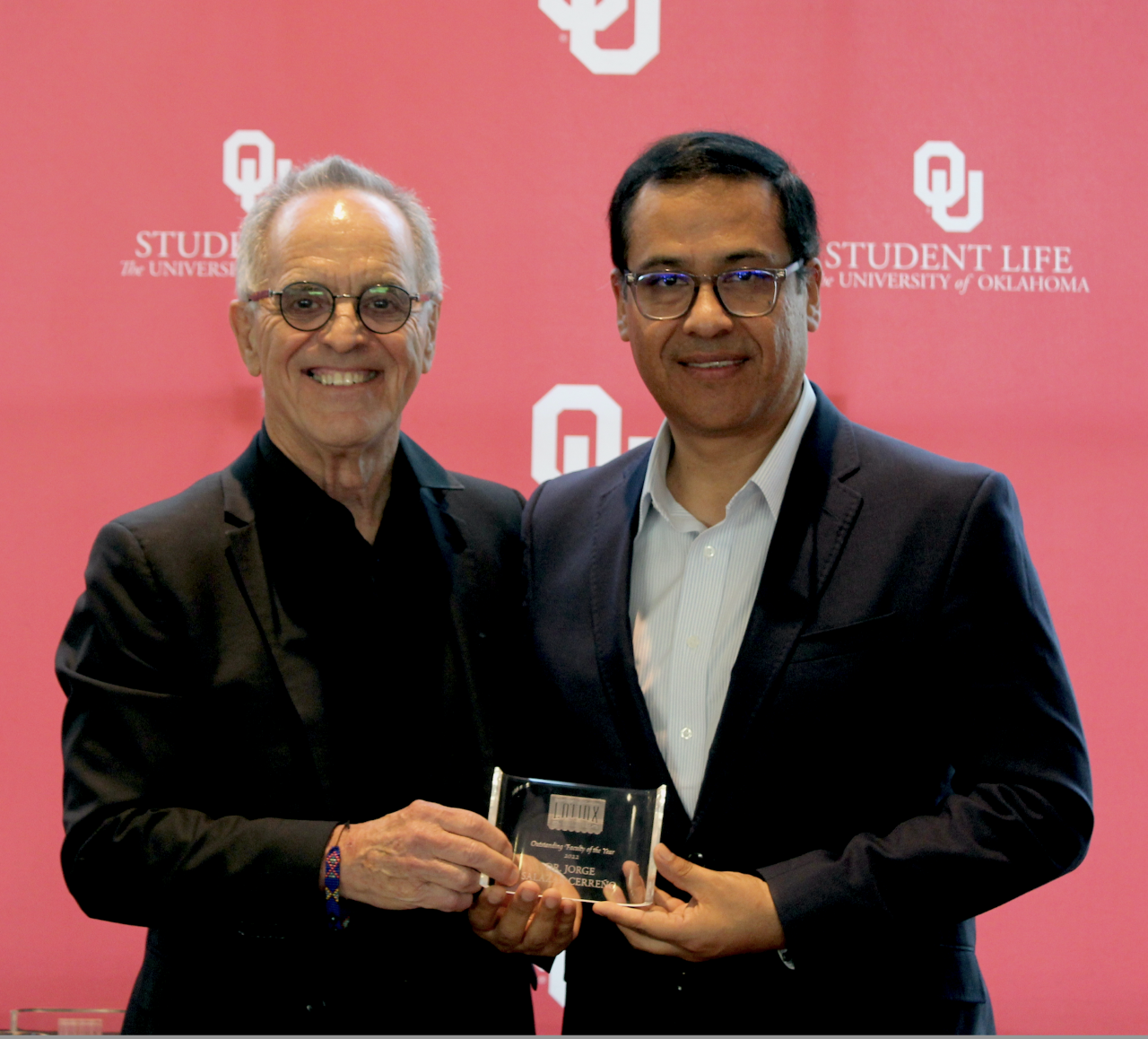 Congratulations to Dr. Jorge Salazar-Cerreno, ARRC/ECE Faculty, for receiving the prestigious
2022 Latinx Outstanding Faculty of the Year Award.
Posted on Thursday May 12, 2022 11:39 am CDT
United States, France Cooperation Advances International Weather Research
The University of Oklahoma and research universities in France have signed a memorandum of understanding to facilitate cooperation between scientists to advance observations and studies of the atmosphere and radar technologies that will lead to improved weather, climate and air quality forecasts worldwide.
The agreement brings together radar and meteorology experts from the University of Oklahoma through its Advanced Radar Research Center (ARRC) and the College of Atmospheric and Geographic Sciences with scientists from the Laboratoire Atmosphères, Observations Spatiales (LATMOS), a French research laboratory of the Université de Versailles Saint-Quentin-en-Yvelines, Université Paris-Saclay, Sorbonne Université, Centre National de la Recherche Scientifique and Institut National des Sciences de l'Univers.
Pictured are Bob Palmer (right), executive director of the ARRC and Philippe Keckhut (left), the former director of LATMOS, at a meeting in 2018. Read more from a press release here.
Posted on Friday May 06, 2022 10:42 am CDT
Announcing the ARRC's Student of the Month for May 2022 - Hyeri Kim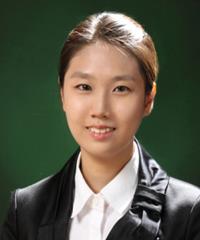 Hyeri Kim is a PhD candidate in the School of Electrical Engineering, advised by Drs. Tian Yu and Boonleng Cheong. Her publications and awards include:
• (Submitted) Hyeri Kim, Tian-You Yu, and Boon Leng Cheong, "Weather Radar Velocity Unfolding Using Convolutional Neural Networks", 2022 11th European conference on radar in meteorology and hydrology, Locarno, Switzerland, 2022
• Hyeri Kim, Boon Leng Cheong, and Tian-You Yu, "Velocity Unfolding Using Convolutional Neural Network for X-band Doppler Weather Radar", 39th AMS Conference on Radar Meteorology, Nara, Japan, 2019• Hyeri Kim, Mi-Kyung Suk, Sung-A Jung, Jong-Sook Park, and Jeong-Seok Ko, "Sensitivity Analysis of Sampling Number on Quality of Polarmetric Measurements from S-band Dual-Polarization Radar.", AGU Fall Meeting, San Francisco, United States, 2016
• Hyeri Kim, M. K. Suk, K. Y. Nam, J. H. Kim, and J. S. Ko, "Performance analysis on terrain-adaptive clutter map algorithm for ground clutter mitigation in Korea", 37th AMS Conference on Radar Meteorology, Norman, Oklahoma, United States, 2015
• (Award) Korean Meteorological Administration (KMA) Administrator Citation, March 2016
Asked about her current research, Hyeri said, "I'm currently developing a weather radar velocity dealiasing algorithm using a machine-learning technique called Convolutional Neural Networks (CNN). This method tries to mitigate the Doppler dilemma, which is a long-lasting issue in weather radar. Especially with X-band radar, velocity aliasing is a more severe issue than in S-band radar due to the shorter wavelength. Preliminary results show a promising potential compared to the traditional unwrapping methods.
Regarding her hobbies and plans for after graduation, Hyeri noted, "I enjoy taking a walk, hiking, hanging out with friends, and playing the piano. After completing my Ph. D, I plan to go into academia in radar/machine learning.
Posted on Tuesday May 03, 2022 08:19 am CDT
OU Vice President for Research signs Memorandum of Understanding betweeen the ARRC and the National University of Asuncion in Paraguay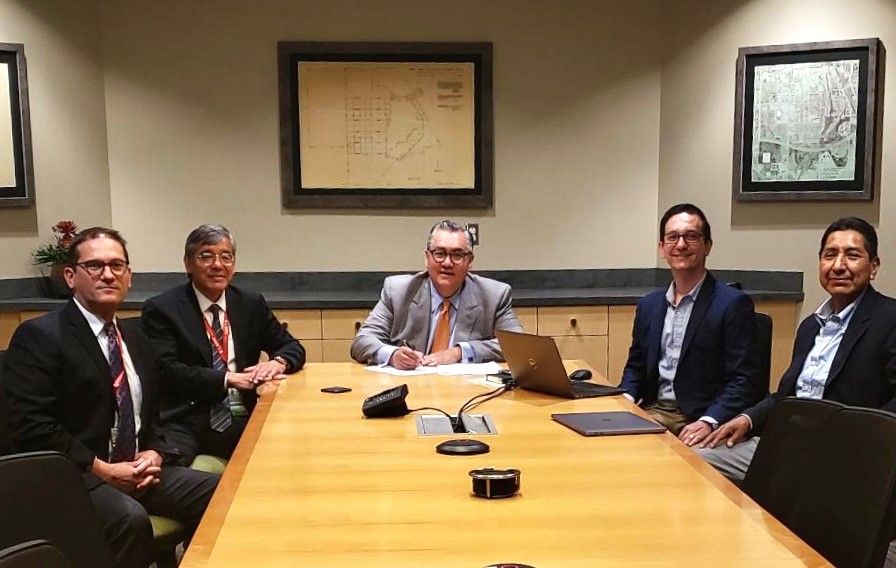 OU Vice President for Research and Partnerships Dr. Tomas Diaz de la Rubia signed a memorandum of understanding between the School of Engineering from the National University of Asunción in Paraguay (FIUNA) and the ARRC on April 21st, 2022. This effort is being led by Dr. David Schvartzman, a FIUNA/OU alumni, with the vision of strengthening the relationship between institutions and supporting the development of weather radar expertise in Latin America.
The agreement allows the development of collaborative proposals and the exchange of students between institutions. One of the goals involves working collaboratively to support them in acquiring radars to expand their operational weather and aviation networks. The agreement would also open a path for students from FIUNA to come with local funding to pursue graduate degrees at OU, especially in research related to meteorological radars. Lastly, as engineering professors at FIUNA are also interested in starting a radar laboratory, to learn more about the technology and eventually support their national weather service.
Pictured are Tim Filley, Robert Palmer, Tomas Diaz de la Rubia, David Schvartzman, and Victor Maqque signing the inter-institutional agreement.
Posted on Friday Apr 29, 2022 11:30 am CDT
Two more ARRC Students, Shane Flandermeyer and Clayton Blosser, receive NSF GRF

In addition to Elizabeth Joyce, two more ARRC students have been awarded National Science Foundation Graduate Research Fellowships this year.  Congratulations to students Shane Flandermeyer and Clayton Blosser!  They are advised by Drs. Justin Metcalf and Jessica Ruyle, respectively.
Dr. Metcalf noted that this marks the ARRC's commitment to undergraduate research, as all three students are/were undergraduate researchers at the ARRC.
Pictured are all of this year's recipients, all from the Gallogly College of Engineering. Click here to read more about each student.
Posted on Friday Apr 22, 2022 08:06 am CDT
ARRC Professors Honored at Annual Faculty Awards and Honors Luncheon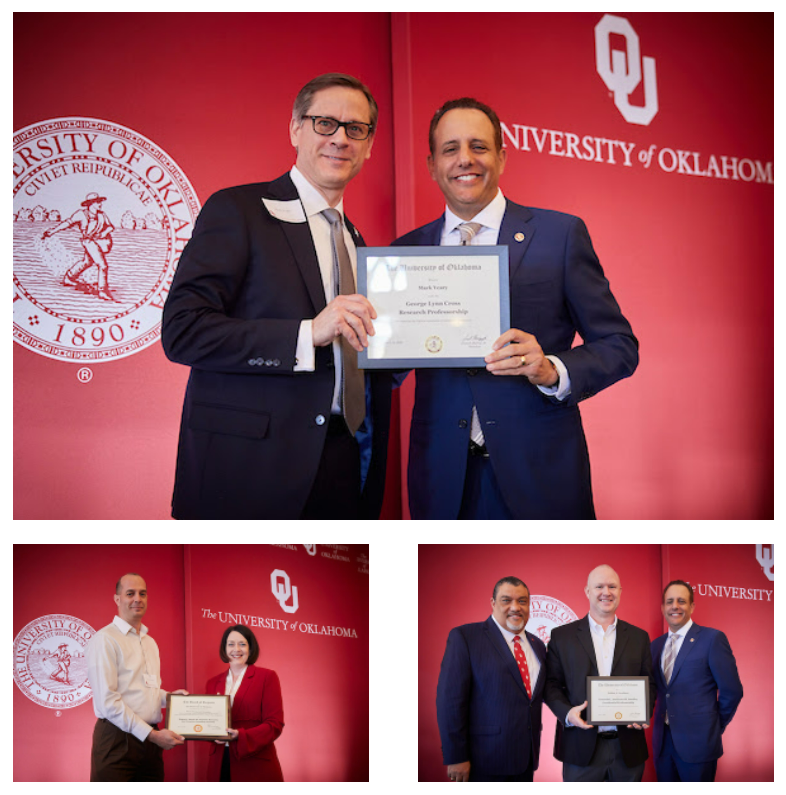 Congratulations to our dedicated ARRC faculty members for the following prestigious awards and honors:
Dr. Mark Yeary, George Lynn Cross Research Professorship, presented by OU President Joe Harroz
Dr. Pierre-Emmanuel Kirstetter, Regents' Award for Superior Research and Creative Activity/Scholarly Activity, presented by Regent Anita Holloway
Dr. Nathan Goodman, Kenneth L. and Janet M. Smalley Presidential Professorship, presented by Provost Andre-Denis Wright and President Joe Harroz
For a full list of this year's faculty recipients and to view the recorded ceremony, please click here.
Posted on Thursday Apr 21, 2022 10:23 am CDT
Elizabeth Joyce awarded National Science Foundation Graduate Research Fellowship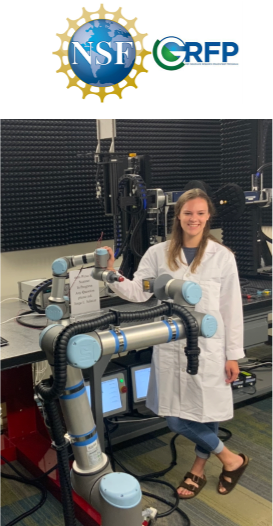 Congratulations to ECE/ARRC Undergrad student Elizabeth Joyce on being awarded a National Science Foundation Graduate Research Fellowship (GRFP)!
As the country's oldest fellowship program of its kind, the GRFP recognizes and directly supports outstanding graduate students in NSF-supported science, technology, engineering, and mathematics disciplines who are pursuing research-based master's and doctoral degrees at accredited United States institutions.
Fellows share in the prestige and opportunities of being selected, including a three-year annual stipend, opportunities for international research and professional development, and the freedom to conduct their research at any accredited U.S. institution. They are crucial to maintaining and advancing the nation's technological infrastructure and national security, as well as contributing to the economic well-being of society at large.
Elizabeth joined OU/ARRC in 2021 to work in radar technology, focusing on wideband microwave front-end systems that can be used for phased array antennas and microwave radar and communication systems. Elizabeth is advised by Dr. Jorge Salazar and she will begin her Ms/Ph.D. studies at the University of Oklahoma in Fall 2022.
Posted on Monday Apr 18, 2022 09:52 am CDT
Nawaf Almuqati receives GCoE Dissertation Excellence Award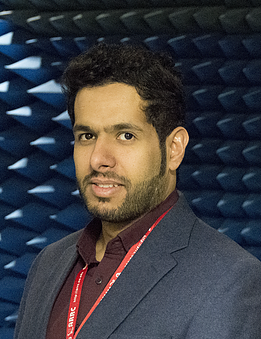 Congratulations to ARRC student Nawaf Almuqati for receiving the Dissertation Excellence Award from the Gallogly College of Engineering! Nawaf is a PhD student in the College of Electrical and Computer Engineering, advised by Dr. Hjalti Sigmarsson.
His dissertation is titled "Ultra-Miniaturized, High-Q, and Multi-Mode Coaxial Resonators and Filters," and he has given this statement of impact:
"In this dissertation, ultra-miniaturized and low-loss substrate integrated filters technology are investigated and developed. This work allows for more than 99% size reduction for microwave filters compared to non-miniaturized filters. For example, this filter technology can have an area of 4mm2 in the 8-12 GHz range, a common satellite frequency band. In addition, the designed filters have low weight and high-quality factor performance, which ranks them as a high potential candidate for new modern wireless systems."
You can view all of the award recipients and some more information here.
Posted on Tuesday Apr 05, 2022 03:10 pm CDT
Announcing the ARRC Student of the Month for April 2022, Rachael Cross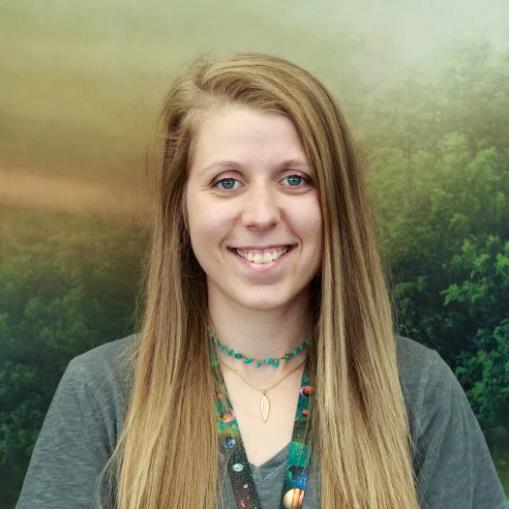 Rachael Cross is a PhD student in the School of Atmospheric and Geographic Sciences, and School of Meteorology, advised by Dr. David Bodine.
Awards and Publications Include:
• The Provost's Certificate of Distinction in Teaching (Fall 2021)
• Cross, R. N., & LaDue, D. S. (2021). When Uncertainty is Certain: A Nuanced Trust between Emergency Managers and Forecast Information in the Southeastern United States, Weather, Climate, and Society, 13(1), 137-146.
• Lenhardt, E. D., R. N. Cross, M. J. Krocak, J. T. Ripberger, S. R. Ernst, C. L. Silva, and H. C. Jenkins-Smith, 2020: How likely is that chance of thunderstorms? A study of how National Weather Service forecast offices use words of estimative probability and what they mean to the public. J. Operational Meteor., 8 (5), 64-78.
Asked about her current research, Rachael said, "For my Ph.D. I am working with high spatial and temporal resolution data of supercells and tornadoes. Using empirical orthogonal function analysis and entropy field decomposition, I am comparing the dynamical and environmental parameters in supercells to better understand the differences between strong and weak systems."
In her free time, Rachael enjoys rock climbing, running, and hanging out with her friends and dogs.  Asked about her plans for after graduation, Rachael said, "While graduation is a ways away for me, my current goal is to go into academia as a professor.
Posted on Tuesday Apr 05, 2022 09:53 am CDT