News Archive
News articles in the past
WNI and Nanowave Sign Agreement to Manufacture Radar Developed by the ARRC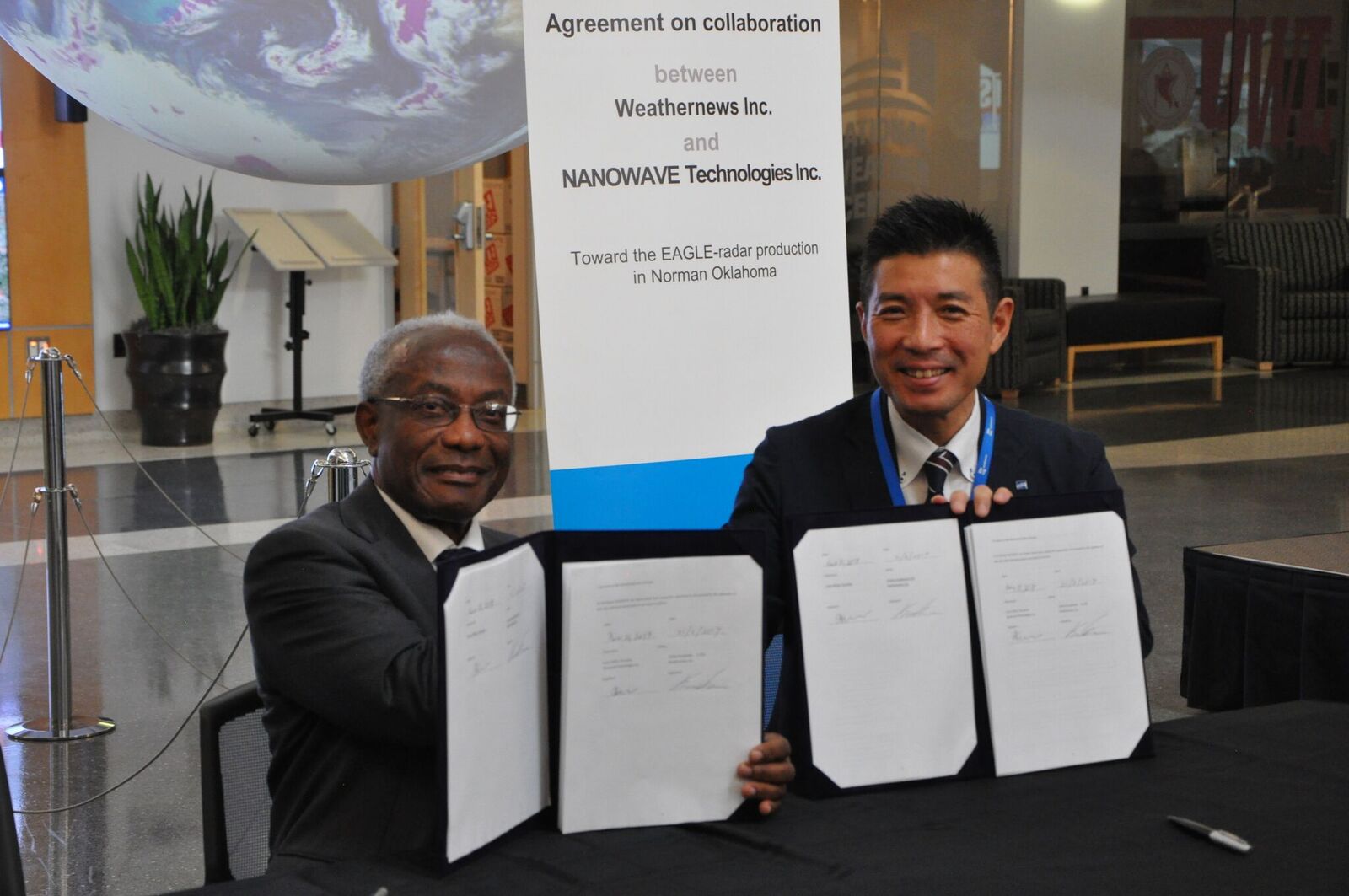 Weather radar technology developed by the ARRC is being utilized in a new potentially life-saving research collaboration with Weathernews Inc. (WNI) and Nanowave Technologies Inc. Over the past two years, collaboration between the ARRC and WNI has led to the development of a new and innovative radar known as the Enthusiasm for Asia-Genesis Leading Edge (EAGLE) radar. The first prototype of the EAGLE radar was designed and developed at the ARRC, and OU has since been instrumental in bringing WNI and Nanowave together for the manufacture of the radar. A research agreement was recently formalized at a signing ceremony held at the National Weather Center. Signing the agreement were Justin Miller (President, Nanowave) and Chihito Kusabiraki (CEO, WNI). Click here for full story.
Posted on Tuesday Jul 25, 2017 02:35 pm CDT
OU Student Receives Boren Award for International Study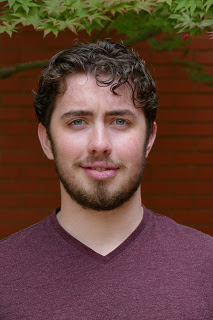 ARRC student Benjamin Korty has won the Boren Award for International Study, sponsored by the National Security Education Program. Korty is the 31st OU student to receive the award since the program began in 1994.
Boren Scholarships, named for David L. Boren, OU's 13th president and former Oklahoma governor and U.S. senator, focus on geographic areas, languages and fields of study deemed critical to U.S. national security. The awards provide up to $20,000 in funding to undergraduate students to study abroad. This year, 791 undergraduate students applied for the Boren Scholarship and 194 received the award.
Congratulations Ben!
Posted on Friday Jun 30, 2017 04:00 pm CDT
ARRC Radar Makes Cover of BAMS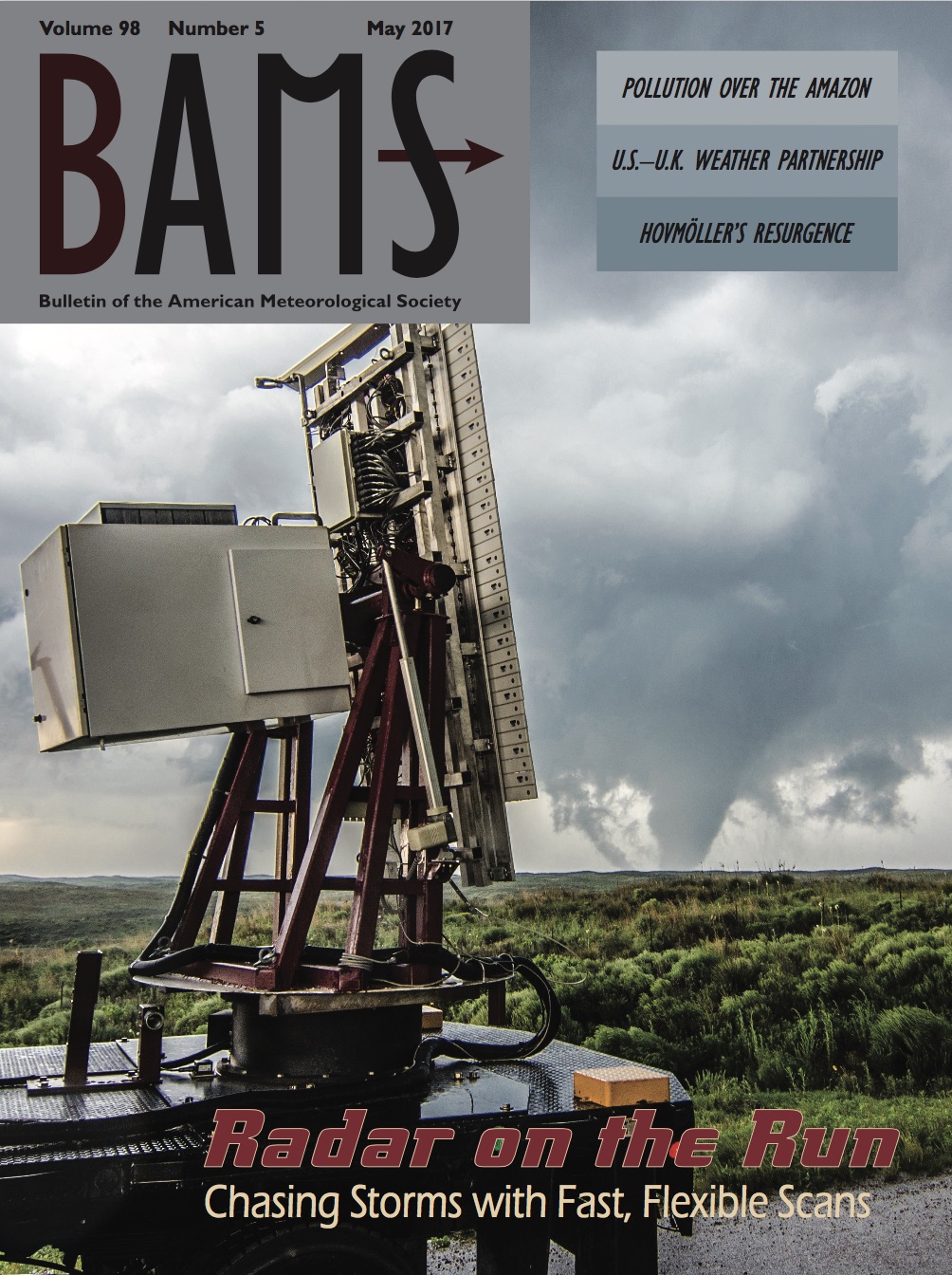 The ARRC's Atmospheric Imaging Radar (AIR) is on the cover of the May 2017 issue of the Bulletin of the American Meteorological Society (BAMS). Click here to see related article, "Observations of Severe Local Storms and Tornadoes with the Atmospheric Imaging Radar"
Posted on Tuesday May 30, 2017 01:53 pm CDT
ARRC Team Develops Tornado Debris Simulator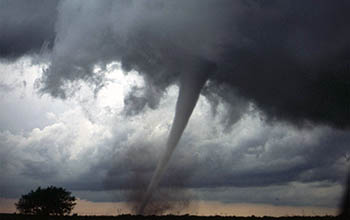 ARRC Research Scientists Drs. Boon Leng Cheong and David Bodine, along with ARRC Professors Drs. Robert Palmer, Caleb Fulton, and Sebastian Torres, and Takashi Maruyama, Kyoto University, Japan, have developed the first numerical polarimetric radar simulator to study and characterize the scattering of debris particles in tornadoes. Results could aid weather forecasters and emergency managers to relay information that a tornado is actually on the ground and the damage it is doing. The results of the study, "SimRadar: A Polarimetric Radar Time-Series Simulator for Tornadic Debris Studies" have been published in the IEEE journal Transactions on Geoscience and Remote Sensing.
Related links:
Posted on Tuesday May 30, 2017 01:46 pm CDT
ARRC Student Jay McDaniel Receives Award in 2017 Student Research and Creativity Day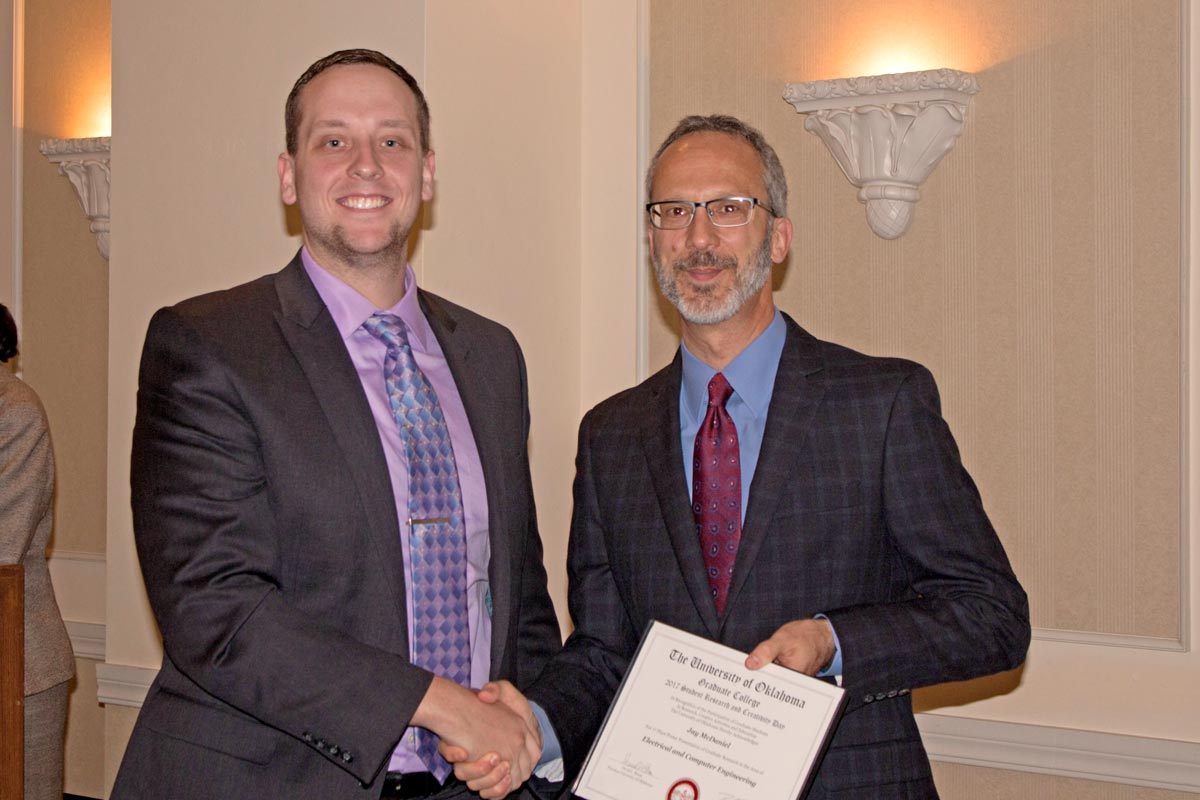 ARRC student Jay McDaniel, won the first place in the poster competition at the Graduate College 2017 Student Research and Creativity Day. Jay is current pursuing his Ph.D. degree in Electrical and Computer Engineering under the supervision of Dr. Hjalti Sigmarsson. Congratulations Jay!
Posted on Tuesday May 09, 2017 11:48 am CDT
ARRC Student Sarah McClung Receives Student Paper Award in WAMICON 2017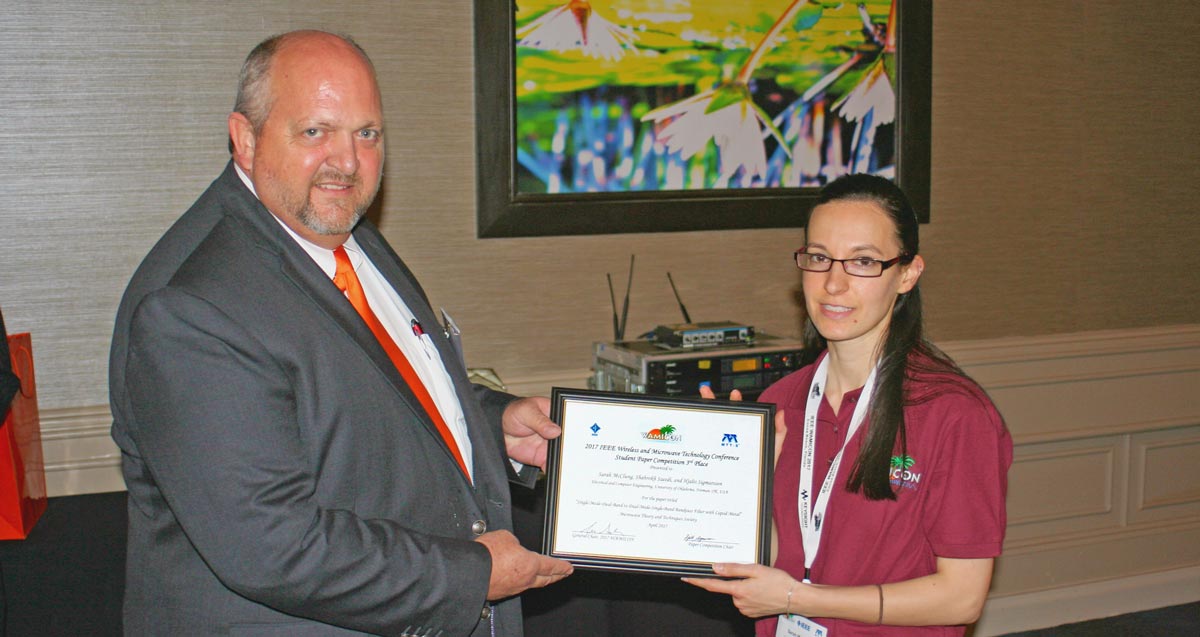 ARRC student Sarah McClung, received the 3rd place in the student paper competition at the 2017 IEEE Wireless and Microwave Technology Conference (WAMICON 2017). Sarah is currently pursuing her M.S. degree in Electrical and Computer Engineering under the supervision of Dr. Hjalti Sigmarsson. Congratulations Sarah!
Posted on Tuesday May 09, 2017 08:29 am CDT
Sungmin O and Dr. Pierre Kirstetter Receive WRaH Best Paper Award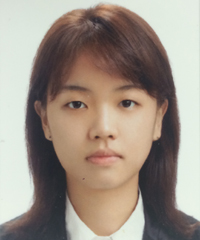 Sungmin O and co-author Dr. Pierre Kirstetter received the Best Paper Award at the International Symposium on Weather Radar and Hydrology held recently in Seoul, Korea. Sungmin presented the paper, "Diurnal Variation of Summer Rainfall Over the Continental United States Based on MRMS Q3 Radar Data and It's Application to Satellite Validation", based on the work she performed during her 6-month stay at OU. Dr. Kirstetter was Ms. O's advisor during her stay.
Posted on Friday Apr 28, 2017 04:18 pm CDT
Dr. Caleb Fulton Receives President's Association Presidential Professorship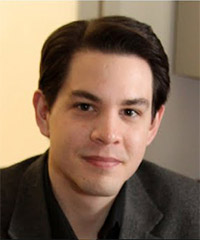 ARRC/ECE Professor Dr. Caleb Fulton has been awarded a President's Association Presidential Professorship.  Presidential Professors are those faculty members who excel in all their professional activities and who relate those activities to the students they teach and mentor. They inspire their students, mentor their undergraduate and graduate students in the process of research and creative activity within their discipline, and exemplify to their students and colleagues the ideals of a scholar through their endeavors in teaching, research & creative activity, and service. Congratulations Caleb!
Posted on Friday Apr 14, 2017 04:32 pm CDT
ARRC Students Receive First Place at Undergraduate Research Day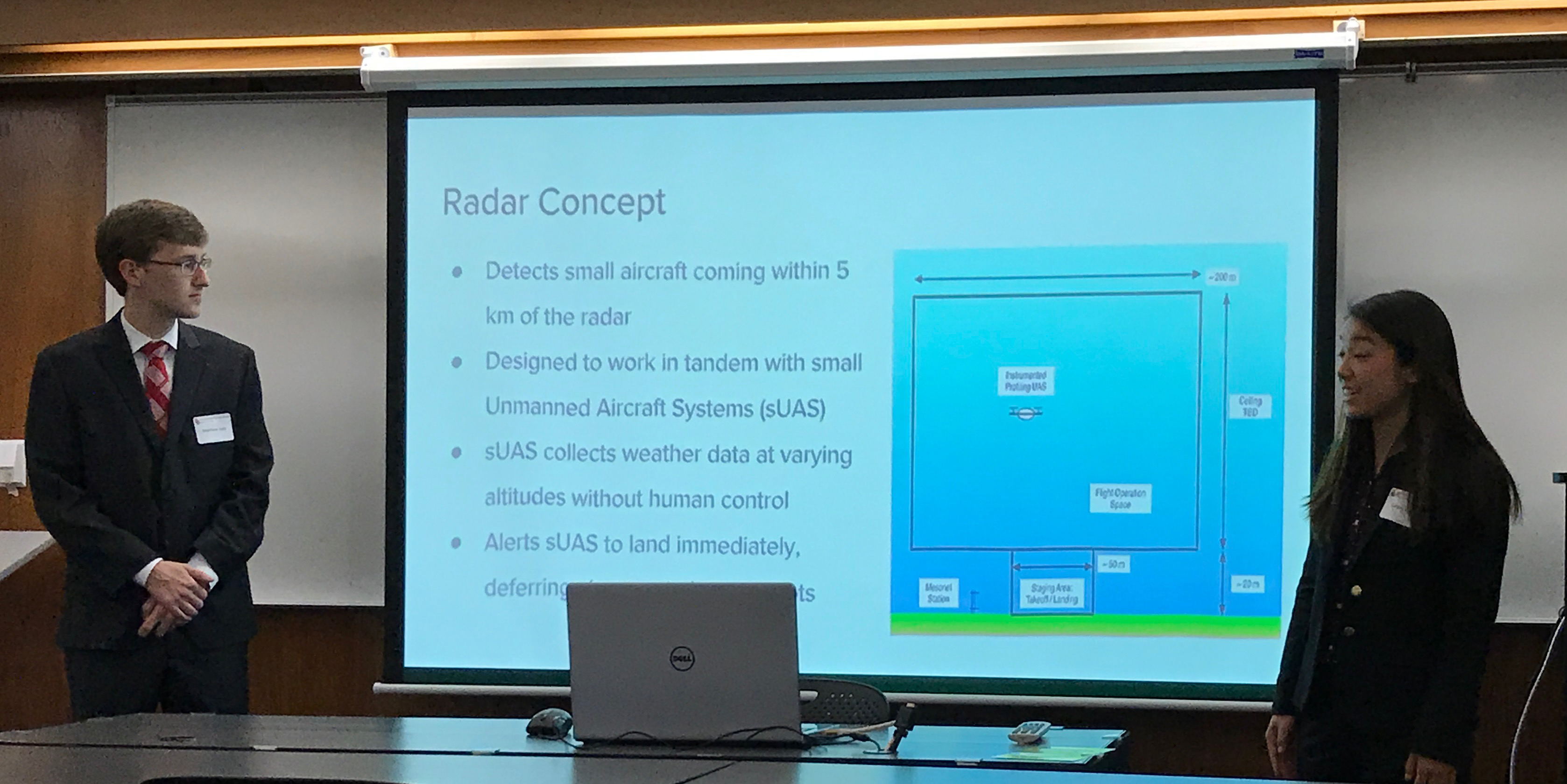 Congratulations to Ashley Palmer and Matt Judy for their participation in OU¹s Undergraduate Research Day, hosted by the OU Honors College. Their presentation, titled "A Ground-Based Radar to Enable the Next Generation of Atmospheric Measurements", received 1st Place in the CEES / Computer Engineering session of the daylong event. Ashley and Matt will share a cash award of $250. A reception to honor of all the recipients will be held on Tuesday April 18th, 3:30 p.m., in the Nancy L. Mergler Library at the Honors College, David L. Boren Hall.
Posted on Thursday Apr 13, 2017 04:48 pm CDT
Andrew Byrd Receives AMS EIPT Conference Award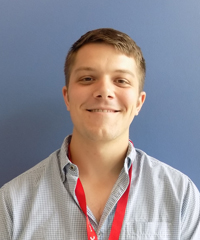 ARRC/ECE PhD student Andrew Byrd was recently awarded 2nd place in the Oral Presentation Category of the AMS 33rd Conference on Environmental Information Processing Technologies (EIPT) Student Competition. Andrew's presentation was titled "Demonstration of Weather Observations with a Cylindrical Polarimetric Phased Array Radar. Congratulations Andrew!
Posted on Friday Feb 24, 2017 04:00 pm CST