RaXPol
Rapid X-band Polarimetric Radar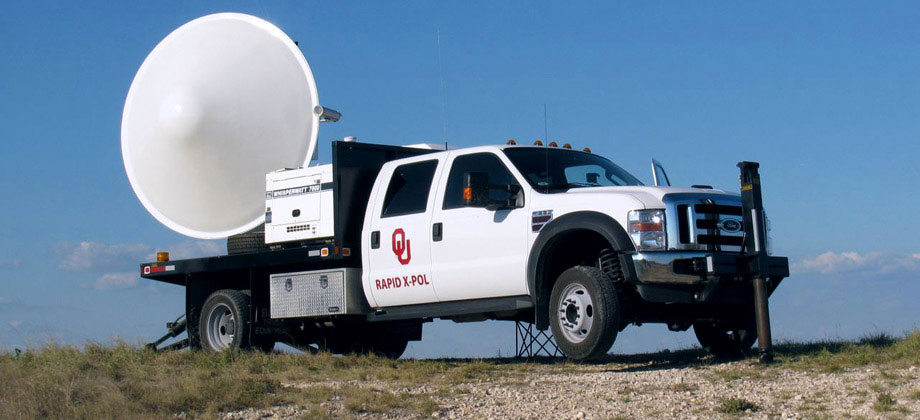 RaXPol provides a versatile platform to support a wide variety of meteorological, engineering, and educational investigation of the atmosphere, radar systems, and signal processing.
System Overview
Operated by OU's Advanced Radar Research Center (ARRC), RaXPol boasts extremely rapid pedestal speeds, which enable a volume scan to be completed in as little as 20 seconds. The truck-based platform can quickly maneuver to a target area, deploy, operate, and depart with minimal preparation. While these advantages make RaXPol well-adapted to observation of severe weather phenomena, the arbitrary transmit waveform and raw I/Q data recording capabilities also allow for experiments with pulse compression and innovative radar signal processing.
The RaXPol is now part of the NSF CIF. Click here to learn more.
System characteristics
20 kW peak power / 200 W average power TWT transmitter
Transmit frequency is 9730 MHz (X-band)

Wavelength: 3.08 cm
Pulse length: 0.1 - 40 μsec
Pulse repetition frequency: 1 - 8 kHz
Coherent pulse, chirp, or arbitrary waveform
Automatic frequency hopping mode for independent sampling during rapid-scan

Antenna

3-dB Beamwidth: 1° (2.4 m Parabolic Dish)
Gain: 44.5 dBi
Sidelobe level: Better than -26 dB one-way
Cross-pol isolation better than 26 dB

Rotation rate:

Up to 180° sec-1 in azimuth
Up to 36° sec-1 in elevation

Simultaneous dual-polarization
Moment or I/Q data recording

A/D converter resolution: 16 bit
Receiver bandwidth: 50 MHz
Gate spacing: up to 3 m

Easy travel

Bridge clearance: 14'
Gross weight: 5 tons
Open for Collaboration
The University of Oklahoma encourages academic, government, and private sector collaborations focused on advancing weather radar technology and science. RaXPol is open for business as a platform to foster and support such relationships. Joint projects are also welcome in signal processing, radar system design, phased array radar, profiling radar, QPE, radar polarimetry, retrieval algorithms, and severe storm observations. Please contact the ARRC Director for specific inquires.
Publication of RaXPol Data
The use of RaXPol data in formal publications and research projects is strongly encouraged. For publications, please use the following acknowledgement: "RaXPol is maintained and operated by the Advanced Radar Research Center (ARRC) of the University of Oklahoma."
Data Access
The University of Oklahoma is committed to providing access to data collected during past field campaigns. To request data from this system, please contact
data@arrc.ou.edu
. In addition, you can find example datasets available to be downloaded at the
Data
page.